General The Rt Hon Sir Edward Lugard GCB
1881-1898
(Colonel the 31st Regiment 1862-1881)
Born in 1810, the son of Captain John Lugard, 6th Dragoons, Sir Edward took part in some of the greatest military endeavours of the 19th century. In 1842, he served in the ultimately disastrous British invasion of Afghanistan and occupation of Kabul. Having survived that campaign, he became Assistant Adjutant General to the army which fought and defeated the Sikhs in the Sutlej campaign of 1845-1846. Despite being wounded at the Battle of Moodkee, he took part in the action at Aliwal only seven weeks later. In his despatch, Major General Sir Harry Smith described Lugard as "a cool, intrepid and trustworthy officer". Promoted again, he was Adjutant General for the Punjab (1848-1849), then Deputy Adjutant General, Bombay (1854-1857).
In 1856 the British invaded Persia, and Sir Edward accompanied the expeditionary force as Chief of Staff to Major General Sir James Outram. Unlike the Kabul affair, it achieved its aims swiftly and with few losses. In 1857 Sir Edward returned to India to the appointment of Adjutant General. No sooner had he taken up this post than mutiny broke out in the Army of Bengal, an event recorded by British historians as the Great Sepoy Mutiny of 1857-1858. Sir Edward was given command of the 2nd Division of Infantry, and he led it in the fierce battles to rescue the garrison at Lucknow.
In 1859, after nearly three decades of warfare in the east, he came home to a series of senior appointments in the War Office (including that of Under-Secretary for War, 1861-1871). It was in 1862 that he became Colonel of the 31st Regiment of Foot, so it was fitting that he should have been appointed to the same post for The East Surrey Regiment upon its formation in 1881. He had retired in the previous year to his home in Notting Hill, London, but continued to take an active role in the affairs of his old regiment's successor until his death, still in command, in 1898. By then, he was eighty-eight years of age. His combined service as Colonel of the old 31st Regiment, and subsequently The East Surrey Regiment amounted to the remarkable total of thirty-six years. A memorial to Sir Edward is in All Saints Parish Church, Kingston-upon-Thames.
Memorial Plaque General Lugard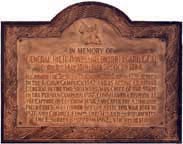 Tablet to the memory of General The Rt Hon Sir Edward Lugard GCB, Colonel, The East Surrey Regiment 1881-1898, a very distinguished officer of the Regiment.
This tablet is situated on the South Wall near the entrance to the Church from the Memorial Gates.
As a Captain at the Battle of Sobraon, he was promoted a Brevet Major for his exemplary conduct throughout the battle.;
« Previous

Back to list

Next »