The Queen's Royal Surrey Regiment
Militia, Volunteers and Territorials
The County of Surrey
The County of Surrey was not backward in fulfilling its military responsibilities and requirements. As in other parts of the Kingdom auxiliary forces were to be found well back in history in the form of Militia, Volunteers and Yeomanry.
Mounted troops were obviously very much in favour. The Surrey Gentlemen and Yeomanry Cavalry were formed in 1794 with six troops to a Regiment and twelve independent troops. The Surrey Imperial Yeomanry was raised in 1901 and granted the title of Princess of Wales's which was later altered to Queen Mary's on the accession of George V. In the First World War it served in France, Egypt, Salonika and Macedonia, being absorbed at times into the 10th Bn The Queens Royal (West Surrey) Regiment and the XVI Corps Cavalry Regiment. In 1922 it was re-formed as 98th (Surrey and Sussex Yeomanry) Brigade, RFA and in 1939 the Surrey Yeomanry Batteries formed the nucleus of the 98th Field Regiment.
During the Second World War it fought in France, North Africa and Italy and in 1947 it was re-formed as a separate Regiment, the 298th (Surrey Yeomanry, Queen Mary's) Field Regiment RA. Successor units eventually became 200 (Sussex Yeomanry) Field Battery RA (V) and D Company 6/7th Bn The Queen's Regiment (V).
After an apparent period of suspended animation the Second Royal Surrey Militia was re-formed in 1852, the new Colonel being the Earl of Lovelace. The officers' mess was established at the White Hart Hotel, High Street, Guildford (where Sainsbury's store now stands) and the police were asked to find billets for 20 officers and about 1,000 men, not an easy task in a town of only 8,000 people. However, troops in the town could be an advantage as was found later in the year when they were called upon to render assistance in the major disturbance of the Guy's Riots. (Various Acts of Parliament have imposed statutory duties on the police to provide billets when required. Some early Chief Constables even styled themselves "Billet Masters").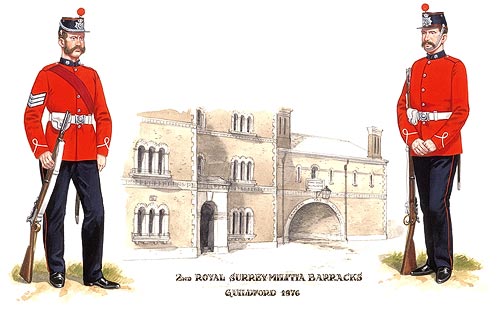 The 2nd Surrey Rifle Volunteers were raised at Croydon in 1859 and with other Surrey Rifle Volunteers they formed part of the 1st Surrey Administrative Battalion. By 1867 the 2nd Surrey Rifle Volunteers had six battalions and in 1881 it became part of the Corps of The Queen's Royal (West Surrey) Regiment with the title of 1st Volunteer Battalion The Queen's (Royal West Surrey) Regiment. Officers and 200 NCOs and men served in the Boer War and on formation of the Territorial Force in 1908 they became the 4th Bn The Queen's (Royal West Surrey) Regiment.