4th Bn The Queen's Royal Regiment

(Click to enlarge)
Losing their Rifle status they changed their green uniforms for the scarlet of Infantry of the Line. On the outbreak of the First World 'War they mobilised, collecting impressed horses and wagons as transport, and on volunteering for overseas service the, 1st/4th Battalion, were posted to India where they carried out garrison, duties. The 2/4th with the 2/5th served in Gallipoli, Egypt and Italy and eventually France in 1918. The 3/4th served on Home Defence and then in France in the First World War while the 4/4th served in India, the Middle East, France and Flanders.
Colours were presented to the Battalion in 1938 by Her Majesty Queen Mary who had been appointed Colonel-in-Chief of the Regiment the previous year.

(Click to enlarge)
Ten days before the outbreak of the Second World War the Battalion mobilised in an anti-aircraft capacity manning both guns and searchlights protecting vital points over a wide area from Portsmouth, Southampton and Basingstoke to Bristol and Avonmouth Docks. Although at first the war seemed "phoney", duties were taken seriously, even to the extent of having the Liner Aquitania moved three hundred yards at Southampton Docks to improve the line of fire of an LMG detachment. (The cost of the manoeuvre was £600 but the Regimental History is silent on how and by whom the account was paid). Not entirely "home-bound", a draft of 3 officers and 40 other ranks was sent to France in September to man anti-aircraft observation posts in front of the Maginot Line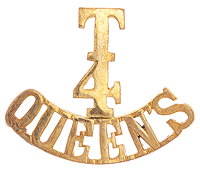 .In August 1940, the Battalion was transferred to the Royal Regiment of Artillery (as were all AA Units) and regretfully replaced their "Lamb" badges with gunner insignia and corresponding other rank titles.
In September 1941, the Regiment was in the London area and in 1942-43 it moved to the Bournemouth, Poole, Swanage and Bridport areas to counter enemy "sneak" coastal air raids which were taking place at that time. Towards the end of 1943 the Regiment moved to the East Coast in the Felixstowe, Harwich, Parkeston Quay areas but in June 1944, as part of the Normandy invasion operation they became sea-borne to man Bofors anti-aircraft guns on the offshore Headquarters ship HMS Despatch. They thus emulated, in somewhat different form, the maritime associations of their predecessors. Disbanded in 1945 the battalion re-formed in 1947 and after several changes in roles and titles eventually became part of the 6/7th (Volunteer) Bn The Queen's Regiment.
Gallery