4th Bn The Queen's Royal Surrey Regiment
(TA)
The 4th Battalion, like the 3rd, quickly commenced a training programme after formation, an early camp being undertaken at Plasterdown. Sporting successes were obtained and preparations were made for the eventual successful participation in the 1961 Nijmegen Marches in Holland. On Remembrance Sunday, 1962 the Battalion provided the representative detachment at the Cenotaph. 1963 saw the Battalion lose its obsolete Vickers MMGs, while 1964 saw an emphasis on Civil Defence training. Valuable aid was given to the civilian emergency services in October, 1965 when the Battalion, on exercises in Snowdonia, assisted in the successful search for a missing medical student, ironically from Surrey.
The Colours of 4th Battalion The Queen's Royal Surrey Regiment (TA)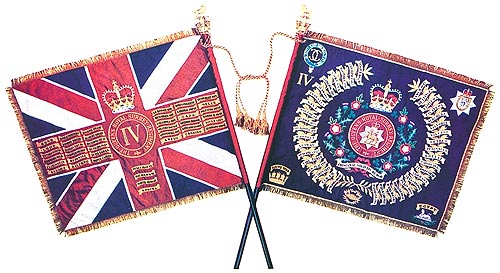 Although the winter of 1965 saw the TA under threat there was, paradoxically, an increase in Battalion strength and a decrease in wastage. For the remainder of the year preparations went ahead for forthcoming re-organisation.
During the war years two Battalions of The Queen's had been converted to an artillery role which was still existing in 1964 in the form of R(Surrey) Battery of 265 Regiment RA (TA). For a time, in 1966, the connection of the Battery with the Queen's Surreys lapsed but it was renewed in 1971 when it reformed as a Battery of 6th (V) Queen's.
Throughout 1964 falling recruiting figures gave cause for concern, barely keeping place with losses and making training difficult. Despite these problems the battalion was graded as efficient at the Annual Administrative Inspection. In October 1965 the Battalion underwent amphibious training with the Royal Marines, Poole. 1966 saw prospects of change for the future and by the end of the year these were beginning to take effect as shown later.