Private (later Sergeant) Jack Harvey VC
1st/22nd Bn The London Regiment (The Queen's)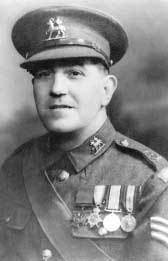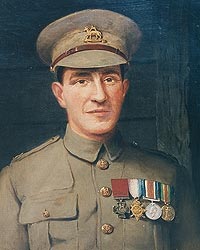 Born in Peckham, London, on 24th August 1891. Jack Harvey joined the Army on 26th November 1914. All his service was on the Western Front.
He received his Victoria Cross from HM King George V at Buckingham Palace on 8th March 1919, and died in Redhill, Surrey, on 15th August 1940.
The Queen's Royal Surrey Regiment Association was instrumental in erecting a headstone on his grave in 1984.
His Citation reads:-
"For most conspicuous bravery and disregard of personal danger in attack. When the advance of his company was held up by intense machine-gun fire, Private Harvey at once dashed forward through heavy enemy fire and rushed a machine-gun post, shooting two of them and bayoneting another. He then destroyed the gun and continued to work his way along the enemy trench and, singlehanded, rushed an enemy dug-out which contained thirty-seven of the enemy and compelled them to surrender. By these two acts of great gallantry he saved his company heavy casualties and enabled the whole of the attacking line to advance.
Throughout the entire operation he showed the most magnificent courage and determination and, by the splendid example which he set to all ranks, materially assisted in the success of the operation".
Date of Act of Bravery
2nd September 1918
Boucheovesnes

London Gazette
15th November 1918
Extract from The Queen's Royal Surrey Association Newsletter, November 1984
Sergeant Harvey won his Victoria Cross as a Private soldier when serving in France, north of Peronne on 2nd September 1918. He destroyed a machine gun post which was holding up his Company and then rushed a dug-out compelling 37 of the enemy to surrender. He died at the early age of 48 in 1940 and was buried at Redstone Cemetery, Redhill.
As part of his research in the VC's of The Regiment, Lt. Col. Les Wilson discovered that Sergeant Harvey's decoration and Medals had come into the possession by purchase of Mr N. C. McCrery, who is a policeman in Nottingham and who is a recognised and respected medal collector. At the same time Mr. McCrery during his investigations into the history od Sergeant Harvey had found that the grave at Redhill was Unmarked.
Resulting from this, the Association decided that this sad situation must be remedied and a Headstone, of Commonwealth War Graves Commission type, has been placed on the grave on 2nd September 1984. The Service, which received national publicity in both Press and the BBC, was conducted by Reverend Douglas Walker RA ChD, Chaplain to 5 Queen's.
Amongst those present were Mrs. N.F.A. Harvey and her son, Sergeant Harvey's grandson, and other relations, the Mayor of Reigate & Banstead, the Mayor and Mayoress of Southwark, Captain P.J. Gardner VC MC late R. Tanks representing the VC and GC Association, Colonel C.H. Nice TD DL representing the 6th Queen's the successors of 22nd London Regiment, The Queen's and Major JMA Tamplin representing 7th Queen's the successors of 24th London Regiment, The Queen's. Mr. N.C. McCrery together with his father and brother were there also. The President of the Association read the Lesson at the Service and laid a wreath, as did Colonel J.W. Francis, representing The Queen's Regiment.