The Queen's Royal Regiment
The Captain Colley Tankard

"Presented in 1850 by Captain G P Colley on promotion" Captain G P Colley went on to become Major General Sir George Pomeroy Colley, KCSI CB CMG, who was killed fighting the Boers on Majuba Mountain, 26th February 1881.
The Corporal Osgood Statuette

A silver statuette of a soldier in jungle dress, presented by the officers who served in Malaya in 1954 – 1957. Corporal Osgood was an outstanding soldier and section commander. He was a National Serviceman.
The Smyth Hunting Horn

Silver and inscribed with Paschal Lamb badge. The plinth bears the following inscription:

"Presented to the 1st Battalion The Queen's Royal Regiment in memory of Captain John Lawrence Smyth, C Company, who having carried his horn through the Arakan 1943 – 1944 fell in action Jail Hill, Kohima, May 7 1944 aged 22 years. 'Good Hunting'."

Captain Smyth was second in command of C Company. On the 7th May 1944, he was killed during the action to take a feature called 'Pimple' during the first battle for Jail Hill. After the battle, his batman recovered the horn and it was returned to his father, Brigadier The Rt Hon Sir John Smyth, VC MC MP, who later presented the horn to the officers' mess 1st Bn The Queen's Royal Regiment. Smyth is remembered as "a fine officer,…leader of many bold patrols in the Arakan". Jail Hill, heavily held by the Japanese, took four days to clear, during which casualties were one officer and thirteen men killed, four officers and fifteen men wounded.
The Queen Victoria Cup

This statuette is a replica of the statuette of the Duke of Wellington (itself a copy of the Wellington Memorial in Aldershot), awarded by the Army Rifle Association from 1895 onwards. It was won in 1902 by a team from 1st Bn The Queen's Royal Regiment whose names and scores in the match are recorded below. It was presented to the officers of 1st Bn Queen's Royal Regiment by Col W S Burrell on leaving the Regiment, 2nd March 1903.

| | | |
| --- | --- | --- |
| Lieut (QM) J J Grubb | Score | 95 |
| WO2 (CSM) J E Garvin | Score | 95 |
| Sgt G Hughes | Score | 94 |
| Drum Sgt G Warren | Score | 101 |
| L/Sgt W Chandler | Score | 88 |
| Cpl A Farrow | Score | 96 |
| L/Cpl J Fuller | Score | 97 |
| L/Cpl C Savidge | Score | 99 |
The Glorious First of June Silver Rose Bowl

It was presented by Captains B T Pell and Hardy. This rose bowl is still competed for annually between HMS Excellent and our successor regiment The Princess of Wales's Royal Regiment.

| | | |
| --- | --- | --- |
| The team was: | 1. | Captain HA Engledue |
| | 2. | Lieutenant R Creek |
| | 3. | Major W Glasgow |
| | Back: | Captain E B Mathew-Lannowe |
The Army in India Infantry Efficiency Prize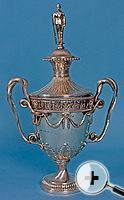 The 1905 Army in India Infantry Efficiency Competition, won by 1st Bn The Queen's Royal Regiment then stationed at Sialkot, the Battalion was commanded by Lieutenant-Colonel (later Brigadier General) F J Pink, CMG, DSO.
The competition was instituted by Lord Kitchener when he was Commander-in-Chief in India. He presented a trophy, the Kitchener Cup, and directed that all Infantry battalions in India should compete. There were at that time some 50 British Army battalions and 120 Indian Army battalions that formed the Infantry element of the Empire's garrison in India. The training requirements were simpler though no less demanding physically than nowadays, the poacher gamekeeper skills of the modern infantryman were not needed for 'duties in aid of the civil power'. The priorities then were shooting and marching; these were the days before motor transport and units had to be capable of marching quickly to any scene of trouble, if necessary over long distances.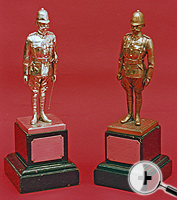 The competition required all soldiers of a battalion, other than those actually in hospital, to compete. According to an account provided by a soldier serving in another unit, each soldier was issued with a number of rounds of live ammunition together with square lead weights to fill other pouches, making a total weight equivalent to 150 pounds. Each man was also issued with four army biscuits, a tin of compressed soup and three blocks of chocolate. The first part of the competition was a fifteen mile march. This was followed by an advance for a mile in skirmishing order, firing at targets positioned around in the jungle. Soldiers had to spot targets and estimate ranges for themselves as they advanced in short sharp rushes; this phase concluded with a charge. There followed a rest for an hour, in which the soup was boiled and biscuits and chocolate eaten, after which there was a second fifteen mile march back to the start point. Some units had up to three miles additional marching from and to their barracks, all in Indian heat.
In the lines, debate would have centred on whether peak efficiency was attained by the 'bun-punchers' or teetotallers, or those who imbibed 'neck oil, or purge', the terms used for canteen beer. Figures are not available for the 1st Queen's, but in the runner-up battalion the 2nd Royal Welch Fusiliers, the five soldiers who dropped out on the march, a serious offence, were all teetotallers.
The competition was assessed as being too severe as there were a large number of casualties, some fatal, and it was not repeated. The 1st Bn The Queen's Royal Regiment were allowed to retain the Kitchener Trophy. This is in three parts, a silver cup, silver statuette and a bronze statuette. These are now held by The Princess of Wales's Royal Regiment.