The Militia and Territorial Silver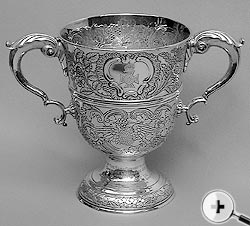 The Drayson Cup
Two handled challenge Cup presented by Col Drayson OBE TD DL, on relinquishing command of 6th Bn The East Surrey Regiment in 1920. Colonel Drayson OBE TD DL was later Honorary Colonel of the 6th Bn The East Surrey Regiment (TA).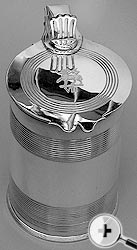 Silver Tankard
This fine silver Tankard formed part of the 24th London Regiment The Queen's silver collection. It was presented to the regimental museum by The Queen's (Southwark) Regimental Association.
It has a hinged lid with a Paschal Lamb and Roman Numerals VII engraved on the lid. It was acquired in the period 1937-1939. Major John Tamplin MBE TD who compiled the history of The Lambeth and Southwark Volunteers was unable to discover how this piece of silver became part of the regiment's collection. Now on display in the museum at Clandon.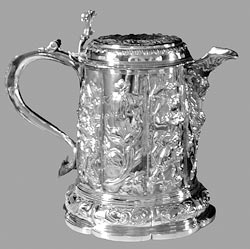 The Lovelace Tankard
Presented by Colonel, The Earl of Lovelace to The Officers' Mess of the Second Royal Surrey Militia in remembrance of 17 years service and companionship with them 18th April 1870.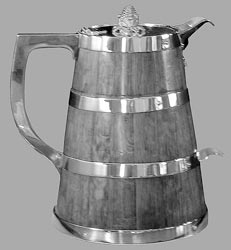 Porter Jug
A wooden oak jug with a china insert, silver handle, lid and hoops. For serving beer and porter. The inscription on the lid reads:-
"Presented September 1871 to The Officers' Mess of 2nd Royal Surrey Militia by Major W Pontifex on promotion.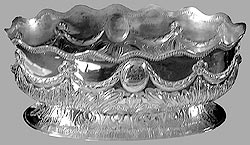 Silver Rose Bowl
On the front of the bowl on a raised centre is the badge of the Second Royal Surrey Militia above a Paschal Lamb. Beneath the Lamb, 3rd, and on a ribbon The Queen's Regiment.
The reverse side of the bowl carries the inscription:-
"Presented to The Officers'Mess 3rd Btn. Queen's Regt by Major John William Taylor, on promotion 12th October 1883".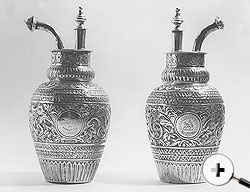 The Ritchie cigar lighters
A pair of unusual cigar lighters presented in 1883 to The officers' 3rd Bn The Queen's Regiment by Major Ritchie MP on promotion.