Affghanistan 1839
(Ghuznee And Khelat)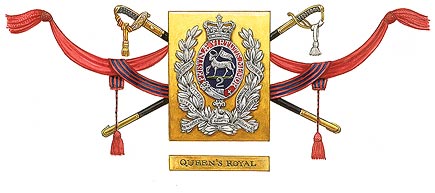 Private of the Grenadier Company in marching order as worn at home and a Private of the Battalion Company.
Both the Queen's (Second) Royal Regiment and the 31st (Huntingdonshire) Regiment were to become involved in the 1st Afghan War. The Queen's were to form part of the invading British force, the "Army of the Indus", whilst the 31st were to appear later in the conflict, as part of the revenging force.
The 1st Afghan War, which lasted from 1838 until 1842 occurred as a direct result of the fear of Russian influence in Afghanistan, which could threaten the security of the Empire in India. An attempt was made by the British to install a puppet Amir or King; the campaign eventually ended after a British disaster, followed by an avenging victory and a withdrawal from the country
27,000 troops were assembled for the invasion and they were formed into three brigades under Sir John Keane, the Commander-in-Chief; The Queen's were part of Brigadier-General Willshire's 1st Brigade. Their long march to the capital, Kabul, was to be via Kandahar and Ghuznee; conditions were terrible with a shortage of food, no roads and extremely hot temperatures, not helped by the soldiers' uncomfortable uniforms. In June, after the Force had marched the 700 miles to Kandahar it became clear that the fortress of Ghuznee would have to be taken before Kabul could be occupied.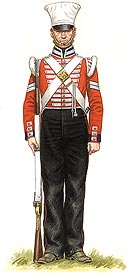 Corporal of the Light Infantry Company.
Equipment was not available for a siege of Ghuznee, so the fortress had to be stormed. Its weakest point was the Kabul Gates and, under cover of darkness, a party of sappers blew the gates up at first light on 23rd July 1839. The Queen's took part in the assault, losing four killed and thirty-three wounded, including six officers. On the 8th August, the Army reached Kabul; GHUZNEE was the first battle honour awarded in Queen Victoria's reign.
A large portion of the Army was then sent back to India, as it was wrongly thought that the occupation force would be safe. The Queen's withdrew to India via the Bolan Pass in the south. Willshire was in command and was told to inflict punishment on the Khans of Khelat en route, because of their constant attacks on the British forces. The Baluchis were seen to be massed on the hills above the town, so Willshire deployed his force into three columns to push up the spurs, while his artillery gave support from the centre. The tactic worked, the enemy retreated and there was a race for the walls of Khelat; after some hard fighting, the British were triumphant. The Queen's returned to India, before disaster befell the remaining force in Kabul on their attempted withdrawal from the country. (The Regiment has earned the battle honour of Afghanistan three times, but the honour has been spelt differently. This campaign resulted in the battle honour of AFFGHANISTAN).