Afghanistan 1878-1879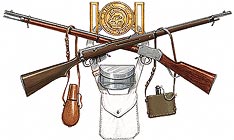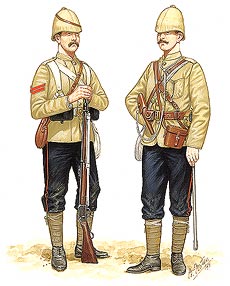 Corporal and Company Officer in Foreign Service Dress.
The 70th (Surrey) Regiment was committed to the 2nd Afghan War. During the period between 1878 and 1880, no less than thirty-one regiments of cavalry and eighty battalions of infantry from both the British and Indian Army had become involved. Many were responsible for guarding the lines of communication through the passes of Khyber, Kuram and Bolam.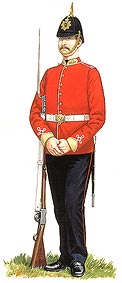 Private of the 31st in home service dress and the newly introduced Home Service helmet.
The beginning of the War had similarities with the 1st Afghan conflict with the British fearing the influence of the Russians in Afghanistan and the potential threat to British India. Initially, the Afghan Amir accepted a Russian Mission to Kabul, but refused a British one. An ultimatum to the Amir followed and in November 1878, the British force crossed the frontier and advanced on Kabul. The Amir, Sher Ali, was defeated the following month, his son, Yakub Khan, was put into power and a treaty was signed. Unfortunately, in September 1879, the British envoy in Kabul, Sir Louis Cavagnari.
Major-General Frederick Roberts, known as "Little Bobs" and later Lord Roberts of Kandahar, led the Kuram Valley Field Force as the nucleus of the British force and moved towards Kabul. Meanwhile, the Afghans were calling for a holy war or "jihad" against the British. An Afghan Army was defeated at Charasiah on 6th October 1879 and Kabul was occupied a few days later. The British campaign went well until news was received of a defeat at Maiwand; there, Ayub Khan had decimated a British battalion and its artillery and, as a result, was marching on Kandahar. Roberts then began his famous Kabul to Kandahar march; 313 miles across mountainous terrain was covered by 10,000 men in just twenty-two days. Ayub Khan and his allies were defeated and the British forces.
The 70th (Surrey) Regiment had marched from Quetta to Kandahar in November 1878 and suffered greatly from the cholera and other diseases. It did not take part in any major battles, but it was involved in many frequent skirmishes with dissident Ghazis and they helped keep open the vital lines of communication between the British forces and India.