Burma 1885-1887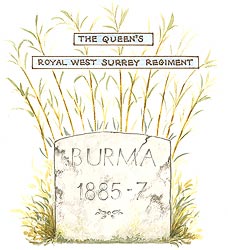 In 1885, The 2nd Battalion Queen's (Royal West Surrey) Regiment was stationed in Calcutta, India and its strength was raised to 1050; 200 above establishment. Its next tour of duty was to be in Burma.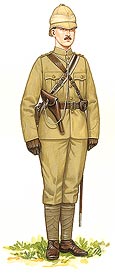 Company Officer in Foreign Service Dress.
A breakdown of relationships between King Theebaw of Burma and the British had been going on since 1879. The King gave further offence by imposing an enormous fine on a teak exporting company. Following his refusal to accept the terms of an ultimatum from the Viceroy of India in 1885, a British force of 10,000 men commanded by Sir Harry Prendergast VC sailed up to Mandalay, occupied the city and captured him. Officially, the war was over with very few casualties. However, many Burmese escaped into the thick jungle and harassed the British. In the end, three brigades were not enough to keep the peace and the British force increased to five brigades and 30,000 men.
The 2nd Battalion of The Queen's arrived at Rangoon in October 1886. The enemy was grouped in four main bands of "dacoits" operating from the river basins and the Regiment was based in Toungoo and Pyinmana within one of the six control areas. It gained a great reputation for efficiency and discipline and fought many successful engagements against the Burmese. One involved a march of thirty-two miles in twenty-seven hours and resulted in the death of a notorious dacoit leader, Tha Hman. Also, during the campaign, the Battalion formed a sub-unit of mounted infantryman, on horseback. The 2nd Battalion left Rangoon to return to Calcutta in March 1888.