Battle of Dettingen 1743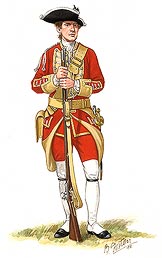 A Corporal; his shoulder knot is of white worsted.
Luttrell's Marines underwent further name changes, as the Colonels handed over command; Churchill's Marines in 1706, Goring's Marines in 1711 and in 1714 it converted from marine service to become a Regiment of the Line, which was officially recognised as the 31st Foot in 1751.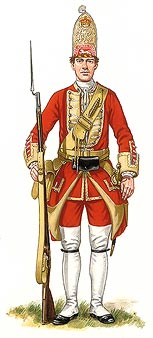 The Grenadier dressed for parade.
Britain's next major conflict was The War of the Austrian Succession (1740-1748). It arose from a dispute between three candidates for the Austrian throne and Britain's principal enemies were again France and Spain. King George II, who was also the elector of Hanover, was in support of the Empress Maria Theresa and had collected an army of English, Hanoverian, Dutch, Austrian and other Germanic elements on the lower Rhine under the command of Field Marshal the Earl of Stair. The 40,000 strong force advanced up the Rhine, but was intercepted by the 70,000 strong French Army under the command of Marshal Noallies.
Stair marched along one bank of the Main valley with Noallies moving parallel to him on the opposite bank, however, the Austrians were not keen to engage the enemy and Stair decided to withdraw towards Dettingen. Unfortunately, the French had detached a force to block any escape. King George now assumed command of the Army; this was to be the last occasion on which an English king commanded his army in battle.
The battle was fought on 27th June 1743. The French cavalry launched a massive assault, abandoning an advantageous position, protected by a swamp. At this stage the 31st were placed in the second line of the battle order. The allied left flank was in danger of being overwhelmed, but was stemmed by the volleys of the English infantry. At one stage the King's horse bolted and he was carried to the second line, where he dismounted and took local command of the infantry. He saw men going forward with great spirit, who had buff facings to their uniforms and is said to have cried out "Bravo, Buffs!". A voice replied "Sir, we are the Thirty-First, not the Old Buffs", to which he rejoined "Then Bravo,Young Buffs". A nickname had been created for the Regiment! The battle progressed and the French Army was driven from the field with heavy casualties.