The Raising Of Villiers' Marines in 1702
and Gibraltar 1704-1705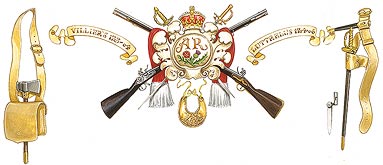 The second regiment to be raised in the history of the regiments of Surrey was Villiers' Marines, later to become the 31st Foot. Britain and Holland declared war on France and Spain in the War of the Spanish Succession (1702-13) and eighteen new British regiments were raised as a result, six of which were marines. They were named after the colonels that commanded them and Colonel George Villiers quickly raised a new regiment in 1702 of forty officers and 793 other ranks.
Villiers provided five companies in the coastal campaign against Spain in 1702; they took part in an unsuccessful attack on Cadiz in August, which was more heavily defended than expected. This was followed by a more successful assault at Vigo, just north of the Portugese border in October; French and Spanish ships were destroyed and a huge amount of booty, worth about one million pounds was captured.
In January 1703, the Regiment set sail for Spain again in HMS Suffolk and HMS Grafton in order to join Admiral Rooke's fleet on operations in the Mediterranean. Unfortunately, in December, Colonel Villiers was drowned off Malta; he was succeeded by the Lieutenant-Colonel of the Regiment, Alexander Luttrell. The Regiment was then renamed Luttrell's Marines and after a brief stop at Barcelona became part of Prince George of Hesse-Darmstadt's force, which landed on the isthmus joining Spain to Gibraltar; this force captured the Rock in July 1704 after three days of naval bombardment and a marine assault.
The new garrison of Gibraltar consisted of three marine regiments and some Dutch marines; a force totaling about 2000. A Spanish army of 8000 men assembled on the mainland in the August and this was joined a month later by a French force of 4000. The first siege of Gibraltar began and the garrison was hard-pressed; a major enemy attack was defeated from the east in the October, but at great cost and by November only 1000 men were fit. Relief came in December, when elements of the 2nd Foot Guards and two other regiments were successfully landed; Prince George was now able to mount counter attacks. The key battle occurred in January 1705, when the enemy captured the Tower and the Town, but after heavy losses, the seized areas were regained by the allies. The siege was officially raised on 18th April 1705 and Gibraltar was later to be named as the first battle honour of The East Surrey Regiment.