The Glorious First of June 1794

The Queen's (Second) Royal Regiment of Foot began service on board the Fleet in 1793, shortly after Revolutionary France declared war on Great Britain. Detachments of the Queen's were serving in Lord "Black Dick" Howe's flagship, HMS Queen Charlotte and also on board HMS Russell, Defence, Royal George and Majestic. The total battalion strength was fifteen officers and four hundred other ranks.
The Battle of the Glorious First of June took place in the North Atlantic, four hundred miles west of Ushant, off the Irish coast. It was the first decisive meeting between the fleets of Britain and the French Republic. Its main effect was on the Nation's morale, as the victory removed any fear of French invasion. The French did, however, manage to slip a vital grain convoy from America into France, whilst the fleets were engaged.
On the morning of the Battle, the enemy fleet was seen about six miles off on the starboard bow steering in line of battle on the port tack. The British fleet formed in line abreast and at 9 30am, the French opened fire. It was said that there could never have been such a noble sight than seeing twenty-five British line of battle ships intending to pass through the French line of twenty-six. An hour later, close action began in the centre, as Lord Howe in HMS Queen Charlotte engaged the French Admiral Villaret in the Montagne. Most of the French shot was high, but the British fire raked the French through the stern and then engaged the enemy on the leeward side before her guns could properly be brought to bear. The battle went on until one o'clock in the afternoon; seven enemy ships were captured and the French suffered 3000 killed and wounded. British losses were 1000.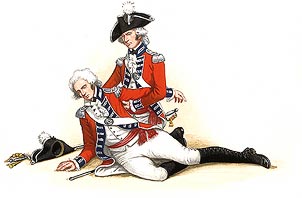 The detachments fought well, though six private soldiers and Lieutenant Neville were killed. The Regiment was later allowed the unusual distinction of wearing the Naval Crown superscribed 1 JUNE 1794 on its Colours; a distinction which continued and remains with its successors. A strong link was also forged with the Royal Navy, continuing today with the Portsmouth base, HMS Excellent, which inherited the traditions of the Queen Charlotte.