Guadaloupe 1810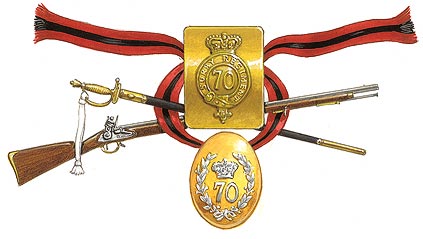 Prior to 1810, Guadaloupe, an island of the Leeward Caribbean group had been captured from and then restored to the French three times! Sir George Beckwith had recaptured Martinique in 1809. The British were formed in two divisions and four subordinate brigades. The Light Infantry companies and the Grenadier companies from different regiments, including the 70th (Surrey) Regiment, were grouped together in battalions. A short campaign was efficiently carried out with minimum casualties, though the troops again suffered from the poor conditions.
It was only in 1847 that the General Service Medal was awarded to the survivors of the Expedition, along with a special clasp inscribed with the name of the island. The 70th (Surrey) Regiment was one of five regiments authorised to carry Guadaloupe on its appointments.
The British were formed in two strong Divisions and three subsidiary Brigades together with a reserve Brigade. In the fashion of the time and a popular innovation in the West Indies, the Light Companies of all the regiments then in the area together with the Grenadier Companies were massed in separate Battalions. The short campaign was efficiently carried out with the minimum of casualties. Four Officers and thirty-one men were killed and fifteen Officers and twenty-three men were wounded. However the regiments all suffered from the dreadful conditions.
Both the British and French armies were decimated by the conditions in the West Indies, particularly due to yellow fever or the 'black vomit' as the troops called it. Between 1794 and 1796 80,000 soldiers died or were invalided. In 1796 over 40 percent of troops in the Windward and Leeward Islands died. The average death rate between 1796 and 1828 was 13 percent a year. Against fever and infection there was no cure. Twentyone British Officers in the West Indies held an experiment to determine whether wine or water was the most healthy; ten drank only water and eleven drank wine. All the water drinkers died. All except one of the wine drinkers also died.*
British troops in the West Indies were issued with round hats the style of which, for other ranks, had remained exactly the same for twenty years. Officers hats were generally privately made and followed the fashion of the period. Some officers wore wide brimmed straw hats and loose white trousers.
*Quote from the Napoleonic Source Book by P Haythornwaite.