Tirah India 1897-1898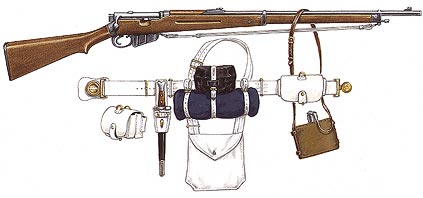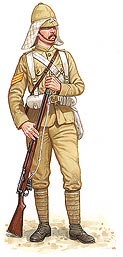 Sergeant in khaki drill.
In 1895, the 1st Battalion The Queen's (Royal West Surrey) Regiment moved from Malta to India and was in the Punjab when trouble flared on the North-West Frontier in 1897. 20,000 tribesmen mustered against the British, as Mohmands attacked in the Tochi Valley and on the Malakand and Chakdarra Forts.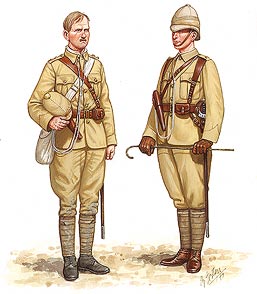 Officers in khaki drill, the one on the right newly arrived on the Frontier.
The Queen's moved to the Malakand Pass in August, having been issued with camels. The Battalion built a perimeter camp in the valley of Nawagai, assisted by the 11th Bengal Lancers and had one soldier killed by an enemy swordsman on one night. A determined enemy assault took place against the camp on the night of the 20th September and was repulsed. The Force Commander described the 1st Battalion as "an example of what an Infantry Battalion should be". At Peshawar, the Battalion was transferred from the Malakand to the Tirah Field Force and was the only Regiment to fight on both sides of the Frontier in that campaign.
General Sir William Lockhart was in command of the Tirah Field Force, which numbered 35,000 men. The 1st Battalion was in the 2nd Infantry Brigade of the 1st Division under Major-General Penn Symons and the overall force was split into three columns. The enemy, the Afridis, were masters of guerilla tactics and knew the difficult terrain well. The campaign was harsh, but the Battalion gained an excellent reputation and valuable experience.
The Force remained in occupation of Afridi country until December 1897, but the campaign did not end until April 1898. The Battalion's casualties were low, due to good discipline and outstanding musketry; ten killed and thirty wounded.