The Inter-War Years 1919-1939
The East Surrey Regiment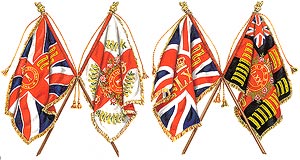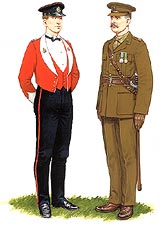 Second Lieutenant Mess Dress
1930 and a Major in Levee
Dress 1939.
The 1st Battalion was despatched to North Russia in 1919 and from there moved to Egypt and garrison duties in Cairo. It left Egypt for the Sudan and Khartoum in April 1923. Soon it was on the move again to Hong Kong; there was one serious incident in China, which involved the battalion deploying during a general strike.

Band Sergeant,
White Summer Dress, Shanghai 1939.
In 1926, the Battalion moved to India, where there was a cycle of parades and training. They moved from the plains of Rawalpindi in the hot weather to the hills of Kuldana. In the cool season, they returned to Rawalpindi. On one return to Rawalpindi, in November 1927, the Battalion paraded for a presentation, dedication and trooping of seventeen silver bugles subscribed for by all ranks as a memorial to their comrades who fell in the Great War. During the Parade, the bugles were trooped in the same manner as the Colours so that all ranks could see them. Eventually, the Battalion returned to the Sudan for a year before returning to England in January 1939.
The 2nd Battalion served in Jersey from 1924 to 1927 after which it was transferred to Gibraltar. It remained there for two years before returning to England. In 1938, it embarked for China and were part of the garrison in Shanghai. In August 1940 the Battalion moved to Malaya and were stationed at Pasir Panjang when the Japanese invaded Malaya.