The Inter-War Years 1919-1939
The Queen's Royal (West Surrey) Regiment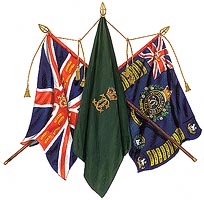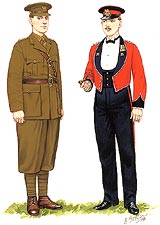 Lieutenant in Service Dress 1930 and Captain in Mess Dress 1930.
The 1st Battalion served in Ireland, during the Irish Republican Army's uprising until 1922, when they returned to garrison duties at Dover. Their next posting was to China, which was torn apart by civil war following the death of Sun Yat Sen, the revolutionary president, in 1925. In 1927, the British Concession in Hankow was attacked; this led to the Commander-in-Chief, China Station, asking for troops to defend the Shanghai Settlement.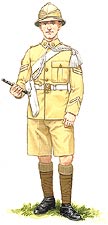 Corporal, Corps of Drums, Summer, Tientsin 1931.
In 1927, the 1st Battalion sent an officer and eighteen men to accompany the Shanghai Defence Force; the rest of the Battalion followed later and moved to Hong Kong, where it took over garrison duties. The Battalion was relieved in March 1929, but returned to China in 1930. When they arrived at Wan Tao, it was extremely cold and the soldiers were issued with fur hats, boots and coats in order to augment the usual greatcoats and leather jerkins. The China duties continued until 1934, when the Battalion moved to Quetta, in the north-west Provinces of India. Whilst there, the city was devastated by a massive earthquake. The Battalion gave the civil authorities every assistance and two members of the Battalion were awarded the British Empire Medal (BEM) for their exemplary conduct; this was later changed to the George Cross (GC). At the outbreak of the Second World War, the Battalion was in Allahabad, India.
The 2nd Battalion participated in the Victory Parade of 18th July 1919 and then travelled to India. The Battalion mainly served on the North-West Frontier and were especially committed to the Waziristan Campaign. It remained in India until 1926, when it then moved to the Sudan for a year. It returned to Dover for garrison duties and then, in 1939, deployed to Palestine to Police rebellious Arabs. It was still there at the outbreak of the Second World War.