Ireland 1689
The Queen Dowager's Regiment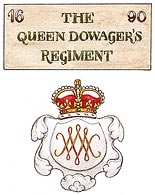 The Queen Dowager's Regoment.
The Roman Catholic Stuart Dynasty was to end in 1688, as the leaders of all the political parties combined and invited William of Orange (William III) and his wife, the Princess Mary (Mary II) to accept the throne. James was unable to put up a fight, as the regiments and even members of his own family deserted him.
James landed at Kinsale, Ireland in March 1689, with French support, in a bid to regain his kingdom. The Protestants of Ulster would not support him and closed the gates of Londonderry against him, under the command of the Reverend George Walker.
Colonel Kirke and his regiment led the relieving force on board ship, which broke the siege in July. King William assumed command in Ireland the following year and the Regiment was part of the successful English force, which defeated James at the decisive Battle of the Boyne on 1s July 1690.