The The Relief of Ladysmith
South Africa 1900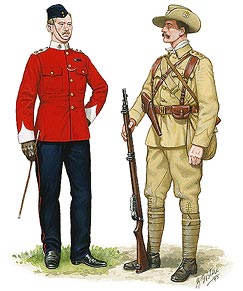 Officer in Scarlet Patrol, Home Service, 1899, wearing the Egypt and Khedive Medals. Captain in Foreign Service Dress.

Colour Sergeant in Drill Order, Home Service, 1898, wearing the Egypt and Khedive medals.
The position at Ladysmith had been further jeopardised by the British defeat at Spion Kop in January 1900; this had been another effort made to turn the Boer flank and relieve the town. Another attempt to force the Boer defences was made on the 5th February. The Queen's and East Surreys had relieved the Durham Light Infantry and 60th Rifles on Vaal Kranz Hill and remained there for thirty-six hours under intense rifle and artillery fire; several men were killed and wounded. Along with the rest of the 2nd Brigade they made a skilful evacuation of the Hill late on the evening of the 7th February.
Ever since Colenso, the Boers had been constructing a defensive position four miles north of the Tugela River, which blocked the route to Ladysmith. It was taken in a battle that started on the 17th February and lasted for eleven days; the Queen's objective was a feature known as Monte Cristo. It was captured at the point of bayonets in an attack in which Lieutenant Smith, seriously wounded less than five weeks earlier, played a gallant part. (He was awarded the Distinguished Service Order at the end of the War). Ladysmith was eventually entered four months after the siege began, on the 3rd March 1900.
After two months rest, The Queen's were joined by their Volunteer Company. The Queen's and East Surreys helped drive the Boers from the Biggarsberg range of mountains and fought a brisk action to capture Allemands Nek. For the rest of the War, the two Battalions were made responsible for guarding lines of communication and ended up marching for many miles on outpost duty. In January 1903, the 2nd East Surreys embarked at Durban for Bombay to relieve the 1st Battalion at Lucknow. In June 1904, the 2nd Queen's returned to England and was stationed at Shorncliffe. Kent.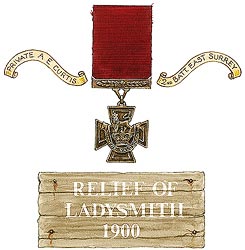 The East Surrey Regiment gained its first Victoria Cross,
in the name of Private, later Sergeant Curtis »