Martinique 1794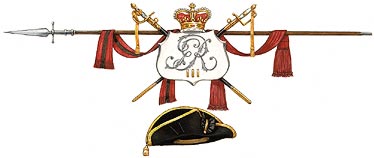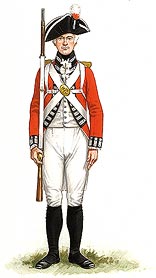 A Private of the Battalion
Company in the uniform
worn at home.
The 70th Foot had been constituted from the 2nd Battalion The 31st Regiment in 1758, becoming the 70th (Surrey) Regiment in 1782. In 1794, the regiment formed part of the expedition, led by Lieutenant - General Sir Charles Grey, which was despatched to seize the French islands of Guadaloupe and Martinique. The 31st flank companies joined them. Grey was well known for his fondness of the bayonet to promote the element of surprise during silent night attacks. Martinique was inhabited by cannibal Caribs, negro freedmen, Mullatoes, Copres, Chabins and Matés, which were all hostile and well armed. The French had a garrison of 600 commanded by General Rochambeau.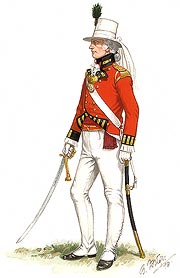 A Junior Officer of the Light Infantry
Company with the distinction of
fringed epaulettes worn over wings
and a scarlet waistcoat and carries
the curved sabre of Light Company
Officers.
Grey's force of 7000 men was divided into five brigades and the 70th were in the third, commanded by Brigadier Whyte with the 6th and 58th Foot. The grenadier companies were detached to the 4th Brigade under the command of Brigadier Campbell and later by HRH the Duke of Kent. The 5th Brigade comprised the light companies under Colonel Myers. The expedition sailed in flat-bottomed gunboats from Barbados and disembarked in three divisions. The 3rd and Grenadier Brigades, with the 70th landed at Trois Rivieres in the south; Dundas with the Light Infantry, including the 70th, landed on the east coast and the 1st Brigade landed at Case de Navire in the north. After a short and savage campaign in the wilderness rain forests and mountains, the British captured Fort de France, St Pierre (the commercial capital) and the fortified Fort Royal and Fort Louis. General Rochambeau capitulated. After establishing a garrison, Grey's force captured St Lucia and Guadaloupe.
The 70th Foot did not suffer major casualties as a result of enemy action, but the whole force did suffer disastrously from yellow fever; by mid 1794, 265 of the 70th had died of the fever and by October only nine soldiers were fit for duty. The 70th returned home in 1795. They were to return to recapture Guadaloupe in 1810.