Namur 1695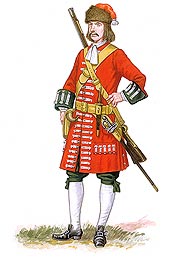 A Grenadier, his flintlock with a wide leather sling only carried by grenadiers at this date.
The Queen Dowager's Regiment deployed to Flanders to participate in "King William's War" or the War of The Grand Alliance of 1689 – 1697 and landed at Ostend in 1692. Whilst there was war in Ireland and trouble in Scotland, the war against the French continued and the aim was to drive them from the Low Countries. Initially, the campaign in Flanders was not successful and there had been a series of setbacks, despite the tenacity of British troops; the Anglo-Dutch Army had received setbacks at Steenkirk, Landen and in other actions.
Namur, a natural location for a fortress, lies at the confluence of the rivers Sambre and Meuse thirty-five miles south west of Brussels. The famous French master of the Defence, Marshal Vauban, had captured Namur in 1692 and improved its defences and by 1695 the town was controlled by the French Marshal Boufflers. William began his investment of Namur in July and, under the direction of the Dutch General van Coehoorn, the allies carried out intensive sapping and a successful series of assaults. The losses were heavy and the British took the brunt of these casualties; the Foot Guard Regiments alone lost over thirty officers in the first action. In the second main assault on the St Nicholas Gate eight hundred soldiers were killed. Success was achieved in August, though the Queen Dowager's Regiment lost fifty-four killed and forty-six wounded. However, the Regiment had performed well and its leader, Colonel Selwyn, was made a Brigadier of Foot. The reduction of the fortress of Namur was seen as one of King William's greatest military achievements and was the last major battle of this war.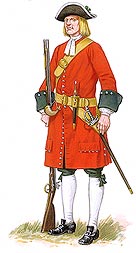 A Private
A number of important status and name changes took place in the Regiment in the next few years. In the War of the Spanish Succession (1702 – 13), the Regiment gained its "Royal" title at Tongres in 1703 and its mottoes Pristinae Virtutis Memor (Mindful of Former Glory) and Vel Exuviae Triumphant (Victorious even in Adversity). The Regiment was quartered with a Dutch regiment, when 40,000 French attacked in order to destroy Marlborough's allied Anglo – Dutch forces; one of the French commanders was again Boufflers. The two allied regiments fought continuously for twenty-eight hours before being forced to surrender, gaining time for the remainder of the Dutch force to regroup and repel the French.
King George I's reign of 1714 – 1727 affected the Regiment's name; in 1714, the Regiment was renamed The Princess of Wales's Own Regiment, remarkably similar to the modern Regiment's title. Following the death of the King, the Regiment was again retitled to become the Queen's Own Royal Regiment of Foot in 1727.