New Zealand & The Maori War 1864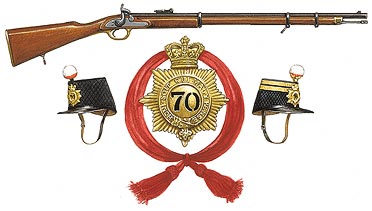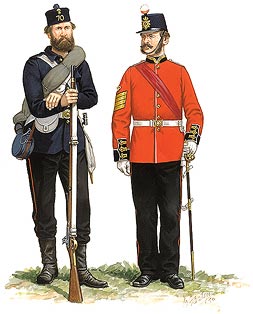 Private in the Grenadier Company. Regimental
Sergeant Major in Home Service Dress.
There were three conflicts between the Maoris and the British in the 19th century; the first in 1845-47, the second in 1860-61 and then, finally, in 1863-66. The third included the participation of the 70th (Surrey) Regiment.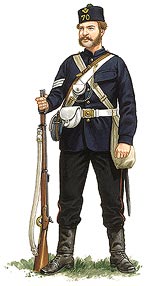 Sergeant. His forage cap has
the bugle horn of the Light
Company and he still carries
a whistle attached to his
pouch belt.
Three years after the 1861 truce, the Maoris felt that they had not been treated fairly and there was some sympathy amongst the settlers. However, the settlers were determined to support the Government and establish their own rights. In May, 1863, a party of the 57th (West Middlesex) Regiment, travelling to a court-martial in New Plymouth were massacred and this event helped provoke the longest of the three wars.
The War was not a great one for manoeuvre or campaigns, as most of the fighting concerned the capture and destruction of Maori stockades. However, these stockades, or Pahs were well defended, as the 70th (Surrey) Regiment discovered at the fight at the Great Pah in 1864. The 70th had reached New Zealand in 1863 and had taken part in the actions at Katikara and Taranaki. The Regiment later moved north and at Orakau Pah, Private Dowling was awarded the Distinguished Conduct Medal; a comparatively rare award before 1914. It took three years and eight British battalions with local volunteer support before the Maoris were defeated. Following the 1866 peace, the Maoris remained loyal to the Crown and continued to build on their reputation for bravery. The 70th (Surrey) Regiment returned to England in 1866 after seventeen years service in India and New Zealand.
Home Service Dress was worn in New Zealand. The blue serge frock was worn for campaigning in the Colony, which was much because of a shortage of red cloth, as for any tactical reason. The fighting conditions were harsh and often the troops had to wade through swamp water up to their knees with their trousers in rags. In 1862, flank companies had been abolished in the Army, though whilst abroad the distinct bugle horn and grenade badges were still often worn on forage caps.