The Queen's (Royal West Surrey) Regiment
1900-1914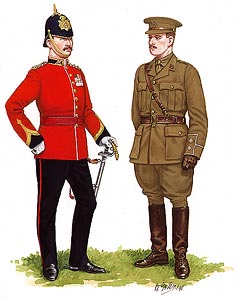 On the left, a Lieutenant and Adjutant in Home Service Dress, 1910 and a Lieutenant in khaki
Service Dress, 1914.
The 1st Battalion Queen's (Royal West Surrey) Regiment left India in 1909 and stopped at Aden before returning home to England, where they remained until the outbreak of the First World War. The 2nd Battalion returned home from South Africa in 1904, but then went on to Gibraltar and then, to the West Indies. In 1914, the 2nd Battalion again moved to South Africa, before returning to England just before the outbreak of war. Both Battalions were briefly in Gibraltar; this was the first time that they had met since 1894.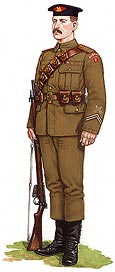 Private in Marching
Order, khaki Service
Dress with bandolier
equipment 1904. The first issued Service
Dress had detachable
shoulder boards.
In India, the 1st Battalion had seen service on the North–West Frontier and had endured hardships at Nawagai and Tirah. The Battalion was described as "the smartest and best Regiment" after the campaign. After four years at Rawalpindi, the Battalion moved to Peshawar and then to Sialkote in 1904. There, in 1905, it won the Kitchener Cup for Infantry Efficiency; the conditions for the competition were so demanding that it was never repeated. Lord Kitchener presented statuettes of an officer and warrant officer to the respective messes to commemorate the short-lived competition; these are still held in the messes of The Princess of Wales's Royal Regiment today.
Whilst in England, the 1st Battalion attended the funeral of King Edward VII and the coronation of King George V. In 1913, the Battalion took part in the unveiling ceremony of the commemorative window at Holy Trinity Church, Guildford. This marked the 250th anniversary of its formation.
Meanwhile, the 2nd Battalion returned to Shorncliffe, Kent, from South Africa in 1904, after two years under canvas. One of its first duties was to attend the unveiling of the war memorials at Holy Trinity Church, Guildford, in October. The Battalion was joined by Reservists from the Militia and Regular Battalions and by the Volunteers, who had all been in South Africa; they then marched through Guildford High Street, which was bedecked with flags and bunting and lined with cheering crowds.