The Infantry Regiments of Surrey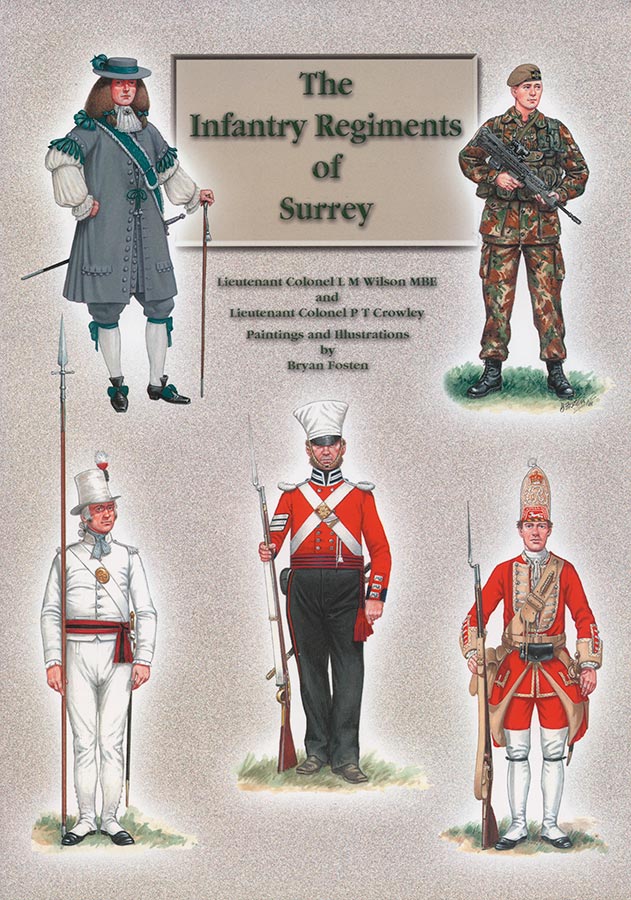 This Section is a transcription onto the Website of the book "The Infantry Regiments of Surrey", which was published on 1st June 2002, to commemorate the Battle of that date in 1794, and to mark the Tercentenary of the Raising of Villiers Marines in 1702, later the 31st Foot and The East Surrey Regiment. The book describes the progress of the regiments from the formation of The Tangier Regiment in 1661, later the 2nd Foot and The Queen's Royal Regiment, up to The Princess of Wales's Royal Regiment in 2002, by reference to notable Actions and other events in their history. The book is profusely illustrated with colour plates depicting the uniforms, arms, accoutrements and colours worn and borne by the soldiers down the years.
The text was written by Lieutenant Colonel Les Wilson, MBE, and Lieutenant Colonel Patrick Crowley, both of whom are members of the Regiment and noted military historians. The colour plates and some black and white prints are taken from paintings and illustrations by Bryan Fosten, once a soldier himself, but known for his eminent research of military uniforms and his writings and paintings on this (and other) subjects. Bryan Fosten has been a prolific contributor to Regimental publications for many years.
The Infantry Regiments of Surrey was published jointly by the Trustees of The Regimental Museum and the Trustees of The Queen's Royal Surrey Regiment Territorial Trust. Copies are held at The Surrey History Centre, in Woking, and at The Surrey Infantry Museum, at Clandon Park near Guildford.
The Raising of the Regiment and Tangier 1661-84
The Raising of Villiers' Marines in 1702 and Gibraltar 1704-05
The Glorious First of June 1794
The Restoration of the Third Colour of The Queen's (Second) Royal Regiment of Foot
The Burning of the Indiaman "Kent" 1st March, 1825
Afghanistan 1839 (Ghuznee and Khelat)
The Birkenhead Disaster 26th February, 1852
Recruiting in the 18th and 19th centuries
The Home Service Dress Uniform 1860
New Zealand and the Maori War 1864
The Effect of the Cardwell Reforms 1881 & Home Service Dress Uniform
Uniforms and Equipment 1855-1900
South Africa - The Relief of Ladysmith 1900
The Queen's (Royal West Surrey) Regiment 1900-1914
The East Surrey Regiment 1900-1914
The First World War 1914-1918 (The Queen's (Royal West Surrey) Regiment)
The First World War 1914-1918 (The East Surrey Regiment)
The Inter War Years 1919-1939 (The Queen's (Royal West Surrey) Regiment)
The Inter War Years 1919-1939 (The East Surrey Regiment)
The Second World War 1939-1945 (The Queen's (Royal West Surrey) Regiment)
The Second World War 1939-1945 (The East Surrey Regiment)
Militia and Volunteers (The Background)
Militia and Volunteers (Militia in the 19th Century)
Militia and Volunteers (Volunteers-Local links)
Post-war and formation of the Queen's Royal Surrey Regiment 1946-1966
The Queen's Regiment 1966-1992
The Princess of Wales's Royal Regiment, (Queen's and Royal Hampshires) 1992 to Date
The Princess of Wales's Royal Regiment, Honours and Awards Iraq and Afghanistan 2004 – 2007