Sedgemoor 1685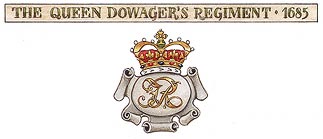 Shortly after The 1st Tangier Regiment returned to England from Tangier in 1684, it became The Queen's Regiment in honour perhaps of its loyal service to date and of King Charles II's wife, Queen Catherine. The Regiment was also known by its nickname "Kirke's Lambs" after its Colonel, Kirke, and the Paschal Lamb badge. The origin of the lamb badge is uncertain, as its first proven association with the Regiment is not shown until its presence in an illustration of 1714. However, it was associated with Portugal and its symbol of Christianity would have been appropriate as a defence against the Moors in Tangier. The Regiment was to change its name again to The Queen Dowager's Regiment, following the death of Charles II.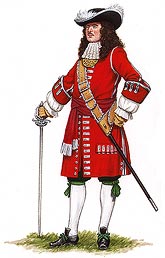 A Private of Battalion Company in winter clothing on sentry duty.
The King's death and the succession of his Roman Catholic brother James II, led to further action by the Regiment; this time at home. The Duke of Monmouth, son of Charles II, landed on the coast in Dorset in order to rally protestant support and remove his uncle from the throne; he hoped for support from the Earl of Argyle in Scotland, but only the Campbell clan, which was quickly defeated, rose. Monmouth's invasion, which resulted in the last battle fought in England at Sedgemoor was not to prove successful. The Regiment helped quash the rebellion.
Monmouth marched on Taunton, receiving plenty of local support. Brigadier Lord John Churchill, of later fame, who had served with the Regiment at Tangier, was sent to intercept with a small force of cavalry and linked up with Colonel Kirke and four companies of the Regiment at Chard, Somerset. The King's overall commander, the Lord of Feversham marched to Bristol, forced Monmouth to withdraw and then linked up with Churchill and Kirke. On the night of 5th July 1685, Monmouth attacked the loyalist force at Sedgemoor, near Bridgwater, Somerset, but was soundly defeated. The battle was over early the following morning after his small army had become lost during its night advance, had become confused and was not a match for the larger professional force. Monmouth was beheaded on Tower Hill and the Regiment assisted in the rounding up of his followers for Judge Jeffries Assizes; this was a particularly bloody pursuit.