Sobraon 1846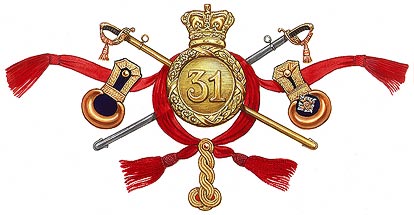 In 1845, the unrest, which had begun in Afghanistan spread to the Punjab, to the north-west of the Indian empire. This led to the two Sikh wars of 1845–46 and 1848–49 and the eventual British annexation of the North-West Frontier region. The 31st (Huntingdonshire) Regiment took part in all of the major battles of the first war, one of which was Sobraon on the 10th February 1846.
In December 1845, the Sikh Army crossed the River Sutlej and advanced into British India; the British commander Sir Hugh Gough, met them with 10,000 men. The 31st fought under Major-General Sir Harry Smith at Moodkee and Ferozeshah, then, after the hard fought British victory at Aliwal, on the banks of the Sutlej near Sobraon.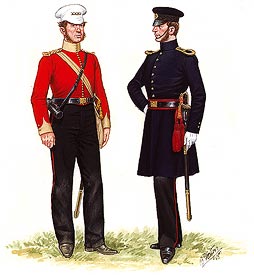 A Company Officer in shell jacket and one in a frock coat and forage cap as worn at home.
The 16th Lancers and three regiments of native cavalry were positioned to threaten the Sikh's left above Sobraon. Sir Harry Smith's Division, which consisted of the 31st, the 50th and four sepoy battalions was on the right. The Centre was composed of Sir Walter Gilbert's division of the 29th, the 1st Bengal Europeans and four sepoy battalions, whilst on the left was another division, commanded by Sir Robert Dick, consisting of the 9th, 10th, 53rd, 62nd and 80th with four battalions of sepoys. Fog hampered the early British attack planned for 2 am; instead the artillery opened fire at 9 am. Dick's division assaulted, but he was killed and Gilbert's attack was halted by the high breastworks. On the right, Smith's feint had failed. It seemed that the battle might be lost, especially as the fighting was so intense and the casualties were so high.
Both of the officers, who were carrying the Colours of the 31st, had been killed and at the crucial moment of defeat, Sergeant Bernard McCabe picked up the Regimental Colour. Under intense fire, he climbed to the highest point of the enemy earthworks and planted the Colour for all to see. This instilled new life into the troops and helped aid the eventual British victory. However, casualties were high; 10,000 Sikhs and 2,400 British were killed or wounded. The 31st lost 35 killed and 119 wounded. Sobraon has been remembered since by the successors of the 31st Foot; The East Surrey Regiment, The Queen's Royal Surrey Regiment, The 1st Battalion The Queen's Regiment and latterly The Princess of Wales's Royal Regiment.
Now, a Sobraon Sergeant is appointed every year in each battalion. He has the honour of carrying the Regimental Colour from the Officers' Mess, where it is normally housed, to the Warrant Officers' and Sergeants' Mess. In addition, a fragment of the original colour is enclosed in a special piece of silver, the "Huntingdonshire Salt", which newly arrived officers of the 2nd Battalion see, when they are invited to "take salt with the Regiment".