The Berlin Airlift
The move by road to Berlin
At the time of the proposed move of the Battalion from Dortmund to Berlin, I was commanding Headquarter Company and was selected to be OC the Advance Party.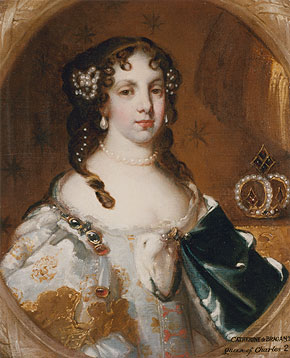 The Catherine of Braganza painting.
On due date our convoy formed up in the barracks, about a dozen vehicles in all, with me in my small private car with the Catherine of Braganza painting carefully packed up on the back seat.
We soon arrived at Helmstedt where there was a Russian checkpoint before getting on to the autobahn to Berlin. Having cleared this without too much trouble, off we went. We arrived at the Magdeburg Bridge to be told that the road was blocked and the bridge unsafe. After some coming and going the Russians indicated that there was a ferry across the river a bit lower down and it was suggested that we should try this.
We set off down a gravel track and eventually reached the 'ferry". To my horror it was just a flat barge attached to an overhead wire by means of a pulley and the barge was moved over by means of the river's current. I had seen such a contraption in the Far East. What to do? We had no radios and no telephone was available. The ferryman appeared to be encouraging (though he had no English and we no German) so we decided to have a go.
It was a very slow progress. One vehicle at a time and at least half an hour between trips. Then there was a further complication - at intervals some fully armed po-faced Russian soldiers appeared, sitting to attention in the back of a truck, stopped in a cloud of dust by the ferry, debussed, and took up defensive positions, round the barge. Were they going to take us prisoners? No, having stayed in position for five or ten minutes they embussed and shot off up the gravel road again. This same procedure took place at intervals during the day.
In time, and after many delays, we got all the convoy across the river intact, and set off to get back on to the Autobahn. The ferry operator did well on chocolate. and army rations! Without further trouble we arrived at the British Berlin Sector Checkpoint, probably six or seven hours later than expected, and, what a reception committee! Several generals and senior members of the Control Commission. As the day had worn on everyone seemed to think we had been put "in the bag ", and that a third world war was imminent! A lot of "debriefing" took place, and eventually, very tired, we reached the Olympic Stadium for a meal and some well-earned sleep.
I heard no more of the incident, and later the Battalion and families moved to Helmstedt, and into temporary accommodation. Quite a long time afterwards they were taken into Berlin by the Airlift. Despite all the tension and scares we were happy in Berlin. Some months later I and my family flew out of Berlin in a Dakota which had been used for carrying coal, as I was to take up a new appointment. A very dirty process it was! My little car never made it - some young man took an unauthorised trip in it, and very successfully wrapped it round a large tree!
The Late Lt Col Robert Lyle OBE