The Chapel of The Queen's Royal Surrey Regiment
In the Cathedral of the Holy Spirit Guildford
The Memorial Grilles
The East Surrey Memorial Windows
Each of the four wrought-iron grilles, painted blue and gold, incorporates regimental insignia: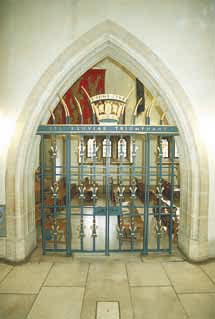 The Naval Crown superscribed '1 June 1794'
This grille was the gift of the 2nd Battalion The Queen's Royal Regiment. The Regiment was authorised to wear this Distinction as a Battle Honour on the Regimental Colour. It commemorates the distinguished part played by the Regiment when serving as Marines in five ships of Admiral Lord Howe's fleet, including his flagship QUEEN CHARLOTTE, in the great naval victory on 1st June 1794, known ever since as 'The Glorious First of June'. The traditions of Lord Howe's flagships were inherited by HMS EXCELLENT, the Naval Gunnery School at Portsmouth, and a close relationship between the Regiment and the Royal Navy has been maintained ever since the battle, through amalgamations to the present day.
The Paschal Lamb
This grille was the gift of the Regimental Depot The Queen's Royal Regiment. The Paschal Lamb was the chief emblem in the regimental insignia of the Queen's Royal Regiment, worn by all ranks as a badge both on the cap and the collar. It was incorporated in to the badge of the Queen's Royal Surrey Regiment. Its origin is obscure but it is possible that it was acquired from the Portuguese House of Braganza.
Related
The Holy Spirit Chapel
Memorial Grilles
---
---