The Chapel of The Queen's Royal Surrey Regiment
Holy Trinity Church Guildford
The Regimental War Memorial
To the right of the north door is the impressive Memorial to those who died in the First World War. In 1919 a committee composed of past and present officers and non-commissioned officers of the Regiment, under the Presidency of Major-General Sir E O F Hamilton, KCB., then Colonel of the Regiment, was assembled to consider the erection of a fitting War Memorial.
It was not possible to obtain a suitable site in the open air, so it was decided that the memorial should be placed on the north wall of Holy Trinity Church, Guildford, close to the Regimental Chapel.
After consideration of several alternative designs, the committee accepted that submitted by Captain E Stanley Hall, MA, FRIBA., an officer who had served with the 10th Bn The Queen's.
The work was completed in 1921, and the dedication and unveiling took place on June 4th. The memorial was dedicated by the Right Rev. E S Talbot, DD., Bishop of Winchester, and unveiled by General Sir Charles Monro, Bart., GCB., GCSI., GCMG., Colonel of the Regiment. The address was delivered by the Right Rev L H Burrows, DD., Bishop of Sheffield, and fourteen local Clergy assisted.
Before the service began the Colours of the 6th, 7th and 8th Battalions were laid on the altar for safe keeping, and were afterwards placed in position over the Memorial. Because of their deteriorating condition these Colours were removed to the Regimental Museum in 1967.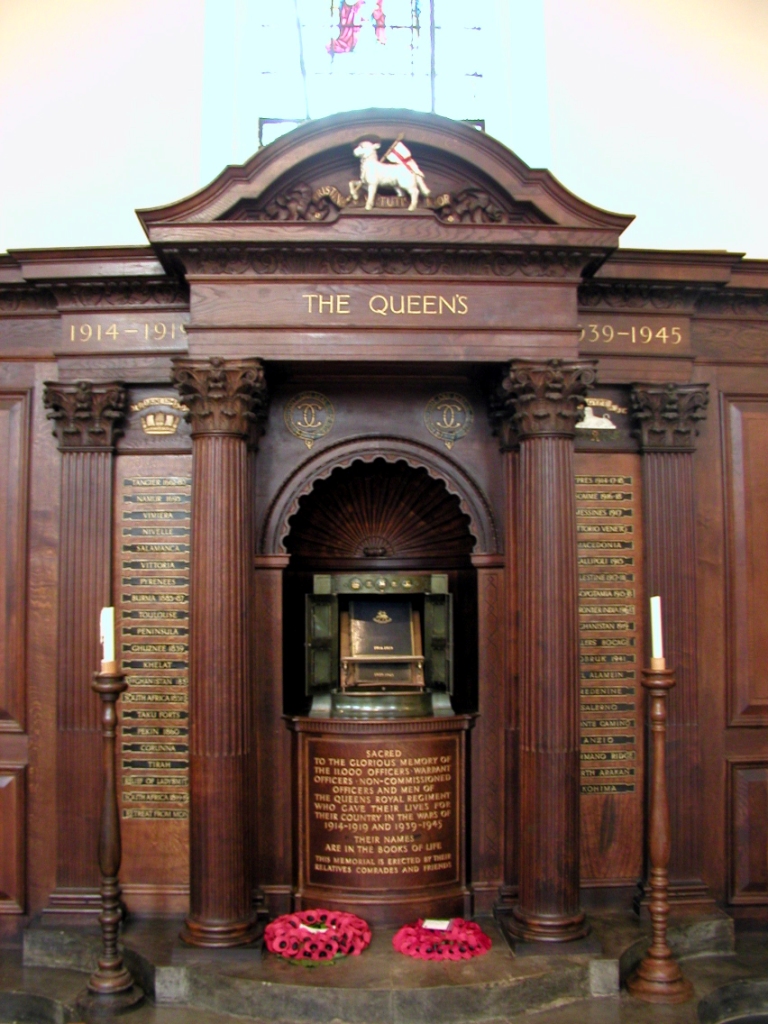 IN MEMORY THE QUEEN'S, 1914-1919.
Below the casket is the following inscription:-
TO THE GLORIOUS MEMORY OF 8,000 OFFICERS,WARRANT OFFICERS, NON-COMMISSIONED OFFICERS AND MEN OF THE QUEEN'S WHO GAVE THEIR LIVES FOR THEIR COUNTRY IN FLANDERS, FRANCE, ITALY, GALLIPOLI, SALONIKA, MESOPOTAMIA, PALESTINE, EGYPT, INDIA, AFRICA AND IN GERMANY, 1914-1919 WHOSE NAMES ARE IN THE BOOK OF LIFE. THE MEMORIAL IS ERECTED BY THEIR RELATIVES, COMRADES, AND FRIENDS.
Two carved oak Corinthian columns support the tympanum. The Battle Honours of the Regiment are incised on panels on either side of the niche, and the whole of the central portion is raised on two steps of blue Honiton stone, while on each side oak panelling 36 feet long and 11 feet 3 inches high is placed.