The Chapel of The Queen's Royal Surrey Regiment
Holy Trinity Church Guildford
The Chapel Tablets
The Chapel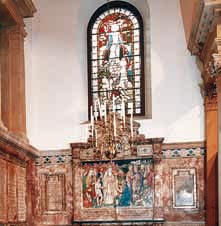 The stained glass window over the altar has no regimental connections, but is a memorial to the wife of a former Rector, the Reverend R Trimmer, MA. She died in 1879.
This photo shows part of the interior and the altar. Above the altar on the east wall there are three memorials. The centre panel is the South African War Regimental Memorial "To the Glory of God, and in memory of all ranks of the Queen's who fell in South Africa 1899-1902. Erected by their Comrades of the 1st, 2nd and 3rd Battalions, and 1st, 2nd, 3rd and 4th Volunteer Battalions".
It is a picture in glass or "opus sectile" representing Abraham on his return from victory receiving the bread and wine from Melchizedec, the King of Righteousness and Peace - (Genesis XIV, 18.).
To the left, or north of this panel, is another memorial to the memory of Colonel John Davis ADC. To the right or south side is a Memorial Tablet in memory of those who died on active service serving with The 3rd Battalion The Queen's.