The Chapel of The Queen's Royal Surrey Regiment
Holy Trinity Church Guildford
The Altar Frontal and The Commemorative Hanging
During 1995 further refurbishment commenced in the Chapel. It was decided to commission a local lady, Mrs Elaine Thompson, to design and execute the work. This she has achieved and the finished works complement the Chapel so well. These were dedicated on the 6th September 1998.
The Reredos and Altar Frontal: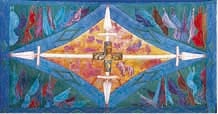 These two textiles suggest the link between the Church and the Army as well as the memories carried within us all. To fit in with both their positioning and the style of the Chapel of the Queen's Royal (West Surrey) Regiment a traditional symmetric design has been followed. To link both pieces with the other designs in the chapel a shape was selected from existing patterning on the walls. This was used as an enclosing border and to generally connect the two designs. The chapel colours are recorded with the soft alabaster shades seen in the marbled silk centres and the strong blues and greens taken from the altar picture and wall patterns. This depicts the coming together of the army of the Church and State. The panels of Colours and Flags express the pride felt by a soldier for his regiment and reflect the emotion of Remembrance Sunday when such standards are lowered. The sheep represent us as God's flock; they witness the energy of the cross and Christ as the Lamb of God. The Lamb is also important to the Regiment who were once known as "Kirke's Lambs".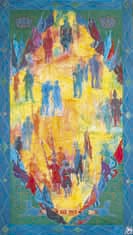 The Commemorative Hanging - The Mist of Time:
The men at arms who have served with the Queen's from 1661 inspired this piece. The soldier is seen from faint images steadily becoming clearer as if he is materialising from memories. Using the suggestion of uniforms from their formation in 1661 to 1959 when they were amalgamated with The East Surrey Regiment evokes a sense of their history. You may recognise two of the soldiers from the famous painting at the Imperial War Museum, which portrayed the awful consequences of mustard gas in the First World War. Finally some of the images become clear as these brave men step out to greet us. The flags suggesting we are drawing back a curtain, frame this scene. The "Naval Crowns" and the "Sphinx" are reminiscent of two of the many Battle Honours and distinctions received by the Queen's and are depicted in the four corners.
Related
Holy Trinity Chapel
Altar Frontal and
Commemorative Hanging
---
Chapel of The Holy Trinity
---