The Colours of The Second or Queen's Royal Regiment
The 22nd London Regiment (The Queen's);
later 6th (Bermondsey) Battalion
The 22nd London Regiment, formerly 3rd Volunteer Battalion The Queen's, received its Colours on 19th June 1909 at Windsor Castle from HM King Edward VII. These were the only Colours which the Battalion held, and were quite distinct from those of the two 'County' Battalions of the Regiment.
The King's Colour was the Great Union, with a gold Roman XXII in the first canton. In the centre was a red roundel bearing the Regimental title, "The London Regiment (County of London) surmounted by a King's Crown, and in the centre the title "The Queen's". After the Great War, this Colour was emblazoned with ten battle honours and it should be noted that these were honours specifically awarded to the 22nd London by Army Order 55 of 1925.
| | | |
| --- | --- | --- |
| YPRES 1917 | | GAZA |
| LOOS | | CAMBRAI 1917 |
| FESTUBERT 1915 | | ALBERT 1918 |
| SOMME 1916, '18 | | JERUSALEM |
| MESSINES 1917 | | JORDAN |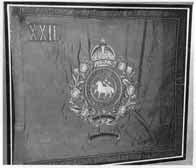 Figure 35
Regimental Colour 22nd (County of London) Bn The London Regiment (The Queen's) (1909 - 64).
The Regimental Colour was a blue sheet, with the Roman numeral XXII in the first canton, but no other corner badges. In the centre was a red roundel bearing the title and within this, in place of Queen Catherine's cipher, the paschal lamb. This was surrounded by a union wreath with a scroll at its base bearing the title THE QUEEN'S. Above was a King's crown and below the title scroll the battle honour SOUTH AFRICA 1900-02 awarded by Special Army Order of 21st December 1904.
In 1938, the 22nd London became the 6th Queen's and at the same time the 24th London became the 7th Queen's. By Army Order 150 of 1939, their battle honours were amalgamated with those of the rest of the Regiment, allowing them to emblazon their Colours with all the battle honours borne by the other battalions. However of great significance is the fact that, in recognition of the service of the 22nd and 24th London, the battle honour MACEDONIA, 1916-17 replaced HINDENBURG LINE on the King's Colours of all battalions of the Regiment by the authority of Army Order 150 of 1939. In the case of the 6th Battalion, none of these changes were actually made, nor were the second World War battle honours, awarded by Army Order 47 of 1957, added in their turn.
After the 6th Battalion amalgamated with the 4th and 5th Battalions, these Colours were laid up in Bermondsey Parish Church on 12th April 1964.