The Colours of The East Surrey Regiment
(and its forebears the 31st and 70th of Foot)
Thirty-First Regiment 1864-1881 and
1st Battalion The East Surrey Regiment (31st Foot) 1881 - 1903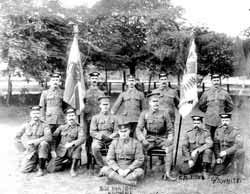 Figure 47
The Colours, Commanding Officer and Colour Sergeants 1st Bn The East Surrey Regiment, 1904.
C/Sgt Vallaley, C/Sgt Hobcraft, C/Sgt Toomey, C/Sgt Foley, Lt Murray, Sgt Major Browne, Sgt Dmr Yates, Lt Col F R Odsham, C/Sgt Barley, C/Sgt Jackson, C/Sgt Rowe, C/Sgt White
New Colours were received in 1864 while the 31st Regiment was stationed at Aldershot, and were taken into use three years later on the departure of the Regiment from Ireland on foreign service. No formal presentation of these Colours to the 31st was ever made, and the reason for this has never been discovered. A tradition grew through the years that the Regiment would not see active service while these Colours were carried.
During the forty years this stand was in service the Regiment served three short tours in Gibraltar and one period of over nineteen years in India, but saw no action. They were laid up on 13th July 1904 on the south side of the nave of the ancient parish church, All Saints, Kingston-upon-Thames, which contained the XV Century Chapel of Holy Trinity, restored in 1920 as the East Surrey Memorial Chapel by the relatives and friends of some of the 6,000 officers and men of the Regiment who gave their lives in the 1914-18 war.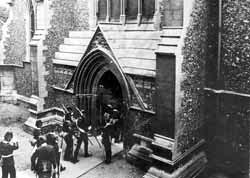 Figure 48
The Laying Up of the Old Colours in All Saints Church, Kingston-upon-Thames, 1904.
From the church floor the Colours appear to conform to the size laid down in the 1958 regulation, four feet flying by three feet six inches deep, and there is a Royal Crest replacing the spear point on the pike. Battle Honours of the 31st at the time of the formation of the East Surrey Regiment were:
GIBRALTAR 1704-5

DETTINGEN

TALAVERA

ALBUHERA

VITTORIA

PYRENEES

NIVELLE

NIVE

ORTHES

PENINSULA

CABOOL 1842

MOODKEE

FEROZESHAH

ALIWAL

SOBRAON

SEVASTOPOL

TAKU FORTS