The Colours of The Queen's Royal Surrey Regiments
1959-1967
3rd and 4th Battalions The Queen's Royal Surrey Regiment (TA)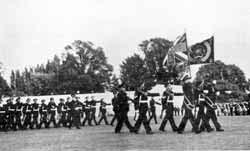 Figure 66
The New Colours of the 4th Battalion March Past
In 1961, the 4th, 5th and 6th Battalions of The Queen's were amalgamated to form 3rd Queen's Surreys, while the 6th East Surreys and the 23rd London became 4th Queen's Surreys. New Colours were presented to both battalions at Woking on 12th July 1963 by the Rt Hon the Earl of Munster PC KBE. Both sets of Colours followed the design of those of the 1st Battalion with certain differences. First, there were distinguishing battalion numerals on both Colours; secondly the TA Queen's Colours bore the battle honours FESTUBERT 1915 and GAZA in addition to those borne by the 1st Battalion. Thirdly, in commemoration of the service of the 23rd London as 42nd RTR, the 4th Battalion inherited the honorary distinction of a badge of the Royal Tank Regiment previously described in the section on the 23rd London Regiment.
After the TA reorganisation of 1965-67, these Colours passed to the 6th (Territorial) Battalion The Queen's Regiment (Queen's Surreys) and later to the 6th/7th (Volunteer) Battalion. They were laid up in Southwark Cathedral on 16th November 1980, as shown in figures 71, 72, 73.
Queen's Colour

Regimental Colour

Figure 68


(click to enlarge)

Figure 67


(click to enlarge)

These Colours were laid up in the Cathedral Church of St Saviour and St Mary Overie, Southwark on Sunday 16th November 1980.
The officers carrying the Colours were Lt D Harwood, Lt P J Chapman, 3rd Battalion and Lt P Gibson, Lt D K Wray, 4th Battalion.
s
Queen's Colour

Regimental Colour

Figure 69
(click to enlarge)
Figure 70


(click to enlarge)

It is of interest that the 4th Battalion's Regimental Colour displays the badge of The Royal Tank Regiment. This is in commemoration of its service as 42nd RTR, and they inherited this Honorary Distinction from the 23rd London Regiment. This badge carried four scrolls; the first bore the dates "1941-45" and the other three the battle honours "NORTH WEST EUROPE" "NORTH AFRICA" "ITALY". This rare distinction was displayed at bottom centre of the Regimental Colour immediately below the Battle Honour Scrolls.