Monuments & Memorials
The Medjez-El-Bab Memorial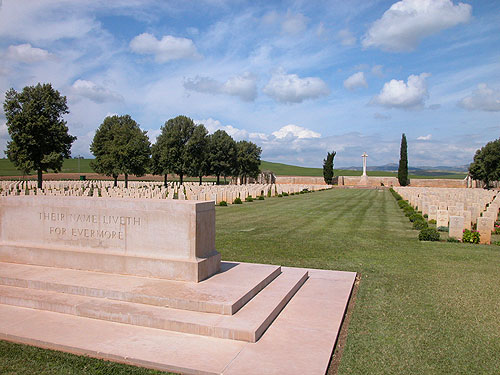 The Memorial, which was designed by Sir Hubert Worthington, OBE, RA, FRIBA, and built by the Imperial, later The Commonwealth War Graves Commission, stands in the Medjez-el-Bab War Cemetery. The War Cemetery, three miles outside the town of the same name, is about forty miles to the south-west of Tunis and is set in a beautiful countryside with hills on two sides.
Two square stone pavilions flank the entrance gateway to the Cemetery and the Stone of Remembrance beyond, on a raised terrace at the rear of the Cemetery, stands two pergolas at each end of a long wall with the Cross of Sacrifice between. On the piers and walls of these pergolas are inscribed the names of the 1959 missing soldiers whom the Memorial commemorates, together with these words:
This Memorial bears the names of the Soldiers
Of the British Commonwealth and Empire
Who gave their lives while serving in the First
And Eighth Armies in Algeria and Tunisia
And have no known grave
1939                                         1945
On the wall facing the Cross of Sacrifice is carved:
On this famous Battleground of the ancient
World two armies converged from the west and
The east in the year 1943 to set free North Africa
And make open the way for the assault upon
Southern Europe
The Memorial was unveiled on the 16th November 1957.
The Medjez-El-Bab Memorial

No.

Rank

Name

Regiment

156106

Major

R C Pearce

2nd Bn The Queen's Royal Regt

6087135

Sgt

R Fromm

1/7th Bn The Queen's Royal Regt

6088292

L/Sgt

R E Butler

1/7th Bn The Queen's Royal Regt

14208468

L/Cpl

W Delicate

2/5th Bn The Queen's Royal Regt

5444275

L/Cpl

L H Hadland

1/6th Bn The Queen's Royal Regt

5888261

Pte

F A Barton

1/7th Bn The Queen's Royal Regt

5831403

Pte

E Brinkley

2/5th Bn The Queen's Royal Regt

6104181

Pte

J Clines

1/7th Bn The Queen's Royal Regt

14388800

Pte

G Cowern

2/5th Bn The Queen's Royal Regt

14200448

Pte

A Fountain

2/6th Bn The Queen's Royal Regt

5958803

Pte

T J Haley

1/5th Bn The Queen's Royal Regt

5338501

Pte

G Ham

2/6th Bn The Queen's Royal Regt

5509841

Pte

D Hughes

1/5th Bn The Queen's Royal Regt

6398584

Pte

C D Masters

1/5th Bn The Queen's Royal Regt

6097056

Pte

W Rose

1/7th Bn The Queen's Royal Regt

6087098

Pte

J J Sanders

1/5th Bn The Queen's Royal Regt

5119706

Pte

F R Webb

1/5th Bn The Queen's Royal Regt

6103973

Pte

H D Freestone

The Queen's Royal Regt
(16 Commando)

6084328

Sgt

C T Eyles

1/5th Bn The Queen's Royal Regt

240259

Capt

F G Coles MC

The Queen's Royal Regt

6090091

WOII (CSM)

F P D Straney

2/7th Bn The Queen's Royal Regt

6012237

Sgt

D Crozier

1/7th Bn The Queen's Royal Regt

5729963

Pte

C F Griffiths

1/7th Bn The Queen's Royal Regt

UNKNOWN SOLDIER

The Queen's Royal Regt