1818 Private James Whitely
31st Regiment of Foot
On the 14th February 1843, at Kilkenny, Co Kilkenny, James Whitely, a shoemaker, enlisted in the 31st Regiment of Foot for a bounty of three pounds, seventeen shillings and sixpence. James was born at Paulstown near Whitehall, Co Kilkenny in September 1823. At the time of enlistment he was described as being 5ft 7in tall, fresh complexion, blue eyes and brown hair.
The water colour depicts a soldier of the period, wearing a peaked forage cap with a white quilted cover. Bryan Fosten has shown the quilted cover as this same cover was worn by other regiments..

The shell jacket was of red cloth with pale buff collar and cuffs, and pewter buttons. The trousers were an oxford mixture, (dark blueish black) with a red stripe down the outer seam.

The equipment was whitened buff leather, pouch belt and waist belt with bayonet frog, waist belt clasp brass with 'XXX1" in centre. Breast plate brass having laurel wreath with crown above, with 'XXX1" in the centre. Below the crown and wreath were shown the battle honours TALAVERA, ALBUHERA, VITTORIA, PYRENEES, NIVELLE, NIVE and PENINSULAR.

A wooden type water canteen painted blue/grey with brown leather strap and brass buckle. White canvas haversack with brass slide, leather 'ammo' pouch, black bayonet scabbard with brass chafe. 1842 pattern percussion musket with white buff leather sling.

Private Battalion Company
James was baptized James WHITELEY and this is how he signed his enlistment papers. When signing for his first Army pay he noticed his name was spelt WHITELY; a mistake of course. Like other young recruits he was more interested in receiving his pay than spelling of his name so thereafter he signed his name WHITELY as shown in his pay book. He continued to sign this way during the rest of his Army career and after his marriage. All his children and his descendants since have been WHITELY without the E. (A minor mistake lives on forever!).
To achieve his goal of becoming a schoolteacher on his return to civilian life, James took advantage of the opportunities offered by the Regiment and spent his off duty hours in study. He was posted to the East Indies soon after his recruit training. Little is known of his service in India, however records show that he fought in the First Sikh War, being slightly wounded at Sutlej and more seriously injured at Moodkee on 18th December 1845. These injuries caused James to be repatriated to England for treatment. After a year of convalescence it was decided he was medically unfit for Army Service and he was discharged on 26th March 1847 with a pension of 8d a day for the rest of his life.
James was a civilian again but retained pleasant memories of his service years. His grandchildren remembered him speaking with respect of Sir Hugh Gough, Brigadier Bolton, Captain Wheler, Lt Col Bryne, Major Grant and Sir John McCaskill. He mourned his fallen friends throughout his life and was always proud of his Colours and uniform.
Upon returning to Whitehall he realized his ambition to become a schoolteacher. At the same school he met a young trainee teacher named Johanna Walsh and in 1850 they married. At the time the British Government was offering ex-soldiers on pensions the opportunity to apply to join the Enrolled Pensioner Force. This Force acted as guards on the convict ships travelling to Western Australia and on arrival in the Colony carried out military duties as required. The Conditions offered to Pensioners were:-
Free passage to Western Australia for themselves, wives and children.
The Pensioners acting as guards on the voyage.


Employment on Military Pay for a period of 6 months from the day of enlistment. Rates of pay for this period on the regular duty scale:-

Private 1/3 per day
Corporal 2/6 per day
Sergeant 3/6 per day


Land grants after seven years service.
James accepted this offer. The chance to obtain land of his own was very attractive so he, his wife and baby daughter embarked on the convict ship Minden at Plymouth on 21st July 1851. The journey of 85 days was favourable by the standards of the time with only 4 deaths, two young children, a sailor boy and one convict. A wife of one of the Pensioners gave birth to twins, mother and babies surviving.
The ship's Surgeon Superintendent was John Gibson RN, who maintained a strict schedule regarding the cleanliness of the convict barracks and crew quarters. He paid particular attention to dryness ventilation and fumigation to preserve good health. Regular bathing with Marine Soap and exercise above decks was considered by John Gibson to be essential for the well being of all.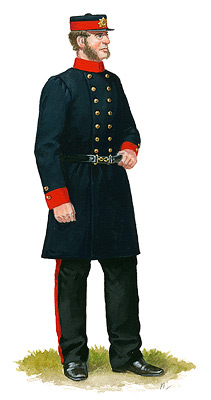 York Detachment Pensioner Force
Fortunately for those on board, the voyage was "a fine weather one with moderate heat within the tropics and very little rain. Temperatures in the South Latitude were mild ranging from 48 to 84 Fahrenheit."
The only mishap of the journey occurred as the ship approached Freemantle, Western Australia. Just off those shores she struck a rock. Luckily no damage or injury to passengers was sustained. The rock has since been known as the Minden Rock.
On arrival in the Colony, settlers were helped by the Government. For every 2/6 in assets they possessed they were granted a freehold acre of land. James was able to take advantage of this offer and was granted 10 acres of land in March 1852, the land being at York, a rich farming region 60 miles from Perth, the Capital of Western Australia.
He joined the York detachment of the Pensioners Force and remained on the roll for many years fulfilling his obligations of Military exercises and duties. The uniform of the Pensioner Force was a double breasted blue frock coat with red cuff and collar, loosely fitting thus allowing it to be worn over the man's civilian jacket in cold weather. Trousers were dark grey with a red stripe similar to those worn by Sappers and Miners. A black forage cap with red band and brass star was worn. The privates were armed with muskets and bayonets. The sergeants with swords and cavalry carbines, adapted to infantry service by removing their side ribs and rings and fitting them with bayonets.
James led a varied life of farming, shoemaking, teaching, and cutting and exporting sandalwood to India. During the years 1863-1875 he employed 39 ticket-of-leave men (convicts) including 10 shoemakers, 2 teamsters and a thresher.
The Whitely family increased to 13 children during these years. Four babies died young however 3 boys and 6 girls survived to become the first generations of Australian Whitelys. Today there are over 1000 descendants of James and Johanna.
These years were busy ones for James and Johanna. Apart from bringing up a large family both were teachers at the first Catholic School at York. James was said to have been blessed with considerable oratorical powers and was often called upon to read the prayer or conduct a burial service in the absence of a Priest. He was also active in the community affairs of the town and was a pioneer member of the Hiberian Society of York. He was however a firm believer that old world feuds should not be perpetuated in Australia. To demonstrate this belief, he would wear both green and orange on St Patrick's Day.
The Pensioner Force was disbanded in 1880. Fifty of the youngest and most trustworthy Pensioners were offered positions as Prison Guards. James of course was not amongst these as he was by then aged 57.
In 1886 he sold his property at York and with his wife and most of his children retired to Freemantle, Western Australia's main port. Here he died on 30th June 1894 in his 71st year.
His years in the Army were few but the impact upon his life was significant. Whilst he was seriously wounded this never the less opened up a new life for him. His Army days were an experience he remembered with affection and he always remained proud of being part of The 31st Regiment.