The East Surrey Regiment
The Hunt Cup
The Hunt Cup 1857 - it bears the following inscription:-
"Presented to the Mess HM 70th Regiment by the members of the Surrey Hunt Club 1857".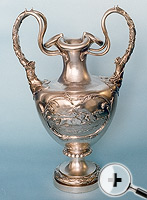 Col J R Collins wrote "One of the large cups was purchased out of money obtained by the sale of a pack of hounds the Regiment had in the Punjab before I joined". Messrs Hunt and Roskell Ltd very kindly furnished the following information to the Mess President 2nd Bn The East Surrey Regiment on the 16th January 1895 "Dear Sir, In reply to your favour of the 4th inst and beg to say that the cup referred to therein was purchased in 1841 by the Officers of the 15th Hussars at Madras for £112 it having been expressly made for them. It afterwards came into our hands and in 1857 we sold it to Lieut Col Timmons for presentation to the Regiment adding a stand to it and the price paid for the whole with additions and alterations was £127".
Following the 1959 amalgamation the cup was presented to the Hong Kong Garrison Officers' Mess. On the withdrawal of British Troops from Hong Kong the cup was returned to the present Regiment, The Princess of Wales's Royal Regiment, and continues in service with them

The Ashton Trophy
This trophy was modelled from photographs of Lance-Corporal Haywood in 1921. It was competed for annually by the Officers of the Battalion in a shooting match. The name of the winner was inscribed on the plinth. No further details are known of Lance-Corporal Haywood.
The inscription reads:-
"Presented by Lt Col C C G Ashton OBE. Commanding 1st Bn. The East Surrey Regt. 21st June 1919-1923.
A Private of the 1st Bn. The East Surrey Regt. (31st) in Fighting Order.
The Great War 1914-1919".
Fragment of Colour XXXI Regiment
The inscription reads:-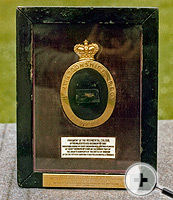 Fragment of the Regimental Colour of His Majesty's XXXI Regiment of Foot, which was borne in eight engagements
and was planted by Sergeant Bernard McCabe on the highest part of the enemy's ramparts at the Battle of Sobraon
after the officer carrying it had fallen mortally wounded.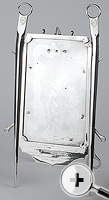 Table President and Vice President's Roster Stand
"The skewers originally belonged to the 2nd Battn XXXI Regiment specially raised for service in the Peninsular War and disbanded at the close of the Campaign".
The 2nd/31st was raised in 1804 and disbanded 14th October 1814. The skewers forming this stand are some of the oldest pieces of silver in possession of the Regiment. This piece is now in the Regimental museum at Clandon.