The East Surrey Regiment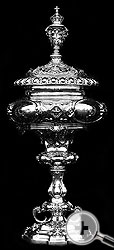 The Attree Cup
"Presented to Col George Staunton and the Officers of the 31st Regiment by Alfred Mackinnon Attree in heartfelt remembrance of their friendship to Captain Fredk. Simes Attree, and in acknowledgement of their honourable tribute to his memory on Cathcart's Hill before Sebastopol 9th September 1855".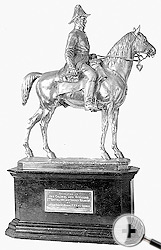 The Queen Victoria Cup
Presented to The Colonel and Officers 2nd Bn East Surrey Regiment by Captain (Brevet Major) F W King Church (late 2nd East Surrey Regiment).
Winners 2nd Bn The East Surrey Regiment Fired at Bisley on 10th October 1899 with Lee Metford Rifle and Cordite ammunition.
The team comprised the following members of the battalion:-
Lieutenant A G S Barcharo
Sergeant Major J A Anderton
Sergeant Instructor of Musketry H J Percy
Colour Sergeant G Holmes
Sergeant J Gooding
Sergeant H Thomson
Lance-Sergeant G Dick
Corporal J Saunders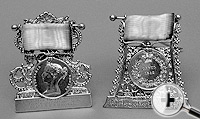 Silver Menu Holders
Two Cabul medals (1842) awarded to Pte Joseph Seymour 31st Huntingdonshire Regiment and Pte H Hornby, 31st Huntingdonshire Regiment converted to menu holders and used for many years in the officers' mess.
This is a pair of silver menu holders bearing the crest of The East Surrey Regiment.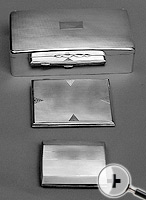 Silver Cigarette Box and Cases
These were presented by London Film Productions, 1938 to officers and men who took part in the filming of The Four Feathers film