The Queen's Royal Surrey Regiment
On amalgamation in 1959 The Queen's Royal Surrey Regiment inherited the silver collection of the Queen's and Surreys. Inevitably there was a surplus of silver, and after various silver boards had met and deliberated, a surplus silver sale was held. During the period 1959-1966 the Regiment commissioned a Tercentenary tray and altar furnishings, shown below.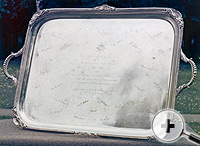 Tercentenary Silver Tray
To mark the 300th anniversary of the raising of the 2nd Foot, the officers of the First Battalion commissioned a silver tray bearing the engraved signatures of the officers who had subscribed towards the tray. It was taken into use following the Trooping of the Colour in Aden when the salute was taken by HRH The Princess Alexandra, 7th December 1961.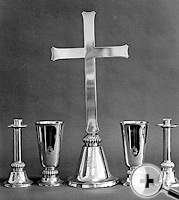 Silver Altar Furnishings
The 1st Battalion commissioned a silver altar cross, altar vases and candlesticks all engraved with the badge of The Queen's Royal Surrey Regiment. These items were handed over for use in the Regimental Chapel in the Cathedral at Guildford following the formation of The Queen's Regiment. Sadly, the altar vases and candlesticks were stolen. The cross was handed back to the Association and was in the regimental museum at Clandon at the time of the fire in 2015. The Association replaced the silver altar furnishings with a set carved from limed oak wood to match the chairs and pews in the Chapel.