The Militia and Territorial Silver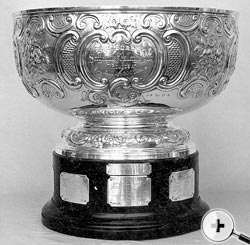 The East Surrey Sergeants' Challenge Cup for Shooting
Competed for annually from 1863 by 1st, 2nd, 3rd and 4th Volunteer Battalions of The East Surrey Regiment. Won three years in succession by 3rd VB Bn (later 6th Bn The East Surrey Regiment TA), in 1898, 1899 and 1900 retained.
From 1956 it was awarded annually to the best shot in the Sergeants' Mess.
It was on display in the regimental museum, Clandon.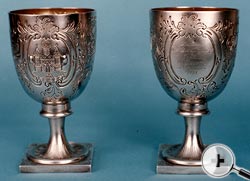 3rd Volunteer Battalion The East Surrey Regiment Goblets
There are twenty-four of these lovely Victorian hallmarked sterling silver claret goblets, each with castle motifs and floral cartouches. They were made and presented between 1882 and 1889. Now in use with The London Regiment.
Each goblet bears the inscription "Presented to 3rd Battn East Surrey Regiment". The list of those presenting the goblets to the officers is shown below:-
By Second Lieut Russell on appointment July 1887.
By Captain C W G Evelyn in commemoration of the Jubilee1887.
In 1888 on appointment by 2nd Lieut C D Carleton Smith. From T W Lemmon Lieut 1866, Colonel 1887 on the occasion of the Royal Jubilee Review Aldershot 1887.
By Lt Col Kennedy 9th July 1887 The Jubilee Review Aldershot.
By Lieut J W S Sutherland in memory of "Dear Old Times" July 1887.
By Lieut Field 1885.
By Second Lieut C G Kennedy 26th May 1888.
From Capt J C Crofton on the occasion of Her Majesty's Jubilee after 19 years service in F Company.
By Captain W H R Saunders on promotion October 14th 1882.
By Lieut L R M Rate 1887.
In 1887 on appointment by Lieut H M G Crofton. To Col Lemmon and Officers by Surgeon Maj F Bonney MD after 20 years service in the Battn.
In 1889 on appointment by 2nd Lieut J P James.
By Lieut O E Hickman on joining the Battalion March 31st 1885.
In 1888 on appointment by Lieut F R Elliot.
By Major E Clifton Griffith June 1887 "Oh! The Jubilee".
By Lieut A A West on joining the Battalion Decr 29th 1886.
By Lieut H A Belville on the good occasion of the Jubilee of Her Majesty 1887.
By Captain T C Worthington on promotion July 1885.
By Captain J Roper Parkington 1887.
In 1888 on appointment by Captn F L Sanders.
In 1888 by Captain W Boynton.
In 1889 on appointment by 2nd Lieut E L Renault.
Editor's Note: Abbreviations have not been altered from the
original inscription on the goblets.
On one side of the jug:-
From F Foster Bateman, On his promotion to a Company in that Regiment 1878.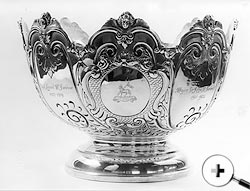 The Jephson Bowl
A silver bowl inscribed "Presented by the Officers 2nd Queen's Royal Regiment to Major General S W Jephson CB as a memento from them on his retirement from the regiment, in which he served 24th May 1861". After his death the bowl was bequeathed back to the 2nd Battalion. Following the 2nd Bn The Queen's Royal Regiment being placed in suspended animation in 1948, it was handed over to The 5th Bn The Queen's Royal Regiment (TA) "As a token of their admiration for their Territorial comrades".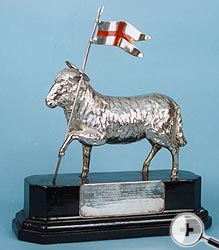 A Paschal Lamb
A Paschal Lamb, hallmarked George V sterling silver bearing an inscribed dedication dated 1914. In 1908 after the Territorial Force was formed under Lord Haldane's Army re-organisation the 4th Battalion had been renumbered and adopted the scarlet uniform of The Line Regiments. Permission was sought for all Territorial battalions to carry Colours. The 4th Bn The Queen's was the first Territorial unit to be granted this honour, due to a large extent to the efforts of Colonel Sir Frank D Watney CVO CBE TD DL, The Honorary Colonel and Mr Arnold Forster, MP for Croydon and Secretary of State for War. On relinquishing his appointment as Honorary Colonel, Sir Frank Watney presented the silver Paschal Lamb. The original Lamb is in use with The London Regiment.
A replica was made in the 1970s and used by 1st Bn The Queen's Regiment as The Champion Company Trophy (Kirke's) award. In 1992 this trophy was placed in the regimental museum.