The Wars Against France 1793-1815
China & India, South Africa
The 1st Battalion in China and India
Meanwhile the 1st Battalion, in company with the Buffs and 31st Regiment, in a combined British and French Force, had gone to China in 1860 for action against the Chinese Empire. A landing was made near the mouth of the Pehtang River, the Taku Forts were stormed and taken, and the force advanced to Peking where, to speed peace negotiations with the dilatory Chinese, the Summer Palace was destroyed.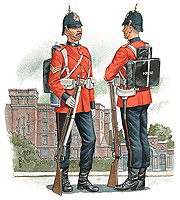 Stoughton Barracks c1900.

The 1st Battalion then returned to England and celebrated the bicentenary with 'a sumptuous Dinner on the Barrack Square' at Portsmouth provided by the officers - the whole battalion sitting down together.
From 1866 the Battalion provided the garrison in Aden for the next two years, before going to India until 1879 when it returned home and sent a volunteer draft of 69 all ranks to the Zulu War. It remained in England and Ireland until 1891, was in Malta from 1892 until 1895, and then went again to India.
| | |
| --- | --- |
| | |
| | |
In 1897 the 1st Battalion was in the Punjab when trouble started on the North West Frontier of India, and it joined the 3rd Brigade in the Field Force sent to deal with this. Winston Churchill watched the Battalion, the only British one in the Brigade, repel a night attack by tribesmen which went on for 6 hours in the Nawagai Valley and wrote a dramatic account. After the Mohmand and Tirah campaigns on the Frontier the 1st Battalion moved to Rawalpindi for four years and then to Sialkot. Here in 1905, under Lieutenant Colonel F J Pink, it continued the Regiment's reputation for smartness and efficiency, confirmed by winning the Infantry Efficiency Prize, presented by the Commander-in-Chief, Lord Kitchener, in a competition to determine the best battalion in India in every aspect of regimental activity. Although intended to be an annual contest, the conditions were so exacting that the competition was not repeated. The trophy was retained by the Regiment, and is now held by The Princess of Wales's Royal Regiment.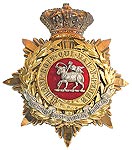 The Queen's in the South African War
In the Boer War, 1899-1902, the 2nd Battalion, initially brigaded with the 2nd East Surreys, fought at Colenso, the Tugela River, at Spion Kop and in the Relief of Ladysmith; but after the first year most of the time was spent on tedious tasks of guarding lines of communication and blockhouses in pursuit of Lord Roberts' policy of attrition against the Boer Commandos. It returned to Shorncliffe in 1904. Meanwhile in Nigeria in 1903, the Regiment gained its first Victoria Cross, won by Lt Wallace Wright, while attached to the Northern Nigeria Regiment.


Blockhouse 109, South Africa 1901-02.

South African Memorial.