Post War Reorganisation
Korea, BAOR, Final Years
After the war the Territorial battalions of 131 and 169 Brigade were disbanded, although before this happened, 1/6 Queen's had served in Palestine in operations against Jewish terrorists. Then on 1st May 1947 5th and 6th Queen's were reformed on peace time lines joining 6 Surreys TA in a new 131 Brigade.
In 1947, the 2nd Battalion moved from India to Germany, while the 1st Battalion having served in Bangkok were in Singapore. Here it was presented with new 4-foot Colours by the Governor and the 100 year old 6-foot Colours, the last to be carried in the Army, were marched off. In December 1947, the 1st Battalion, reduced to cadre, was ordered to join the 2nd Battalion in Berlin. At a ceremonial parade in the Olympische Platz on 9th September 1948, the Colonel of the Regiment ordered the 2nd Queen's to lay down its arms and immediately take them up again as the 1st Queen's. Thus the identity of the original 1st Battalion was preserved. The Battalion served in Berlin throughout the Berlin Blockade of 1948/49 imposed by the Russians.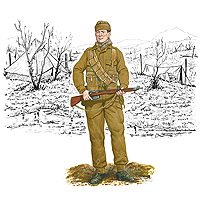 A soldier of C- Company
1st Middlesex, Korea.


(Click to enlarge)
In 1950 the Battalion provided a reinforcement draft of one officer and 135 men for the 1st Battalion, The Middlesex Regiment in the Korean War. On the parade at which the Commanding Officer asked for volunteers for Korea, the whole Battalion took a pace forward. The draft remained intact as C Company, 1st Middlesex, upholding the traditions of both Regiments during seven months of action.
In 1954 after a six year tour in Germany the 1st Battalion sailed for Malaya to take part in operations against Communist Terrorists. During their three year tour they took part in many deep jungle patrols and food denial operations. They accounted for forty six terrorists killed and many others surrendered as a direct result of the Battalion's operations. A large proportion of the Battalion throughout the Malayan tour were young National Service officers and men. It is to their lasting credit that they behaved most creditably and endured the hard conditions with fortitude, courage and cheerfulness. Two Officers and eight Other Ranks died on active service, eight Gallantry medals and twelve Mention-in-Despatches were awarded during the Battalion's tour. It returned to Germany in March 1957.
On 14th October 1959 was amalgamated with the 1st Battalion The East Surrey Regiment to form 1st Battalion The Queen's Royal Surrey Regiment.
On 1st April 1961 the 5th and 6th Battalions amalgamated to become the 3rd Battalion The Queen's Royal Surrey Regiment (TA).
The Regimental Mottoes were:-

Mindful of the gallant actions of the past

Even in defeat there can be triumph