The East Surrey Regiment
The years before the Amalgamation of 1959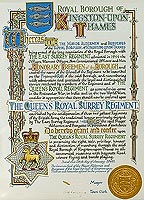 Kingston upon Thames FreedomScroll.
After the War, battalions of the Surreys served in Austria, Greece, Palestine, Egypt, Somalia, Libya, Cyprus and with the British Army of the Rhine in Germany. Consequent upon a reduction of Infantry in post-war years, the Regiment was called upon to give up one Regular battalion. It was decided, rather than to disband, that the 1st and 2nd Battalions should amalgamate, thereby preserving the identity of the former 31st and 70th Regiments.
The Freedom of the Royal Borough of Kingston-upon-Thames had been presented to The East Surrey Regiment in 1944, but it was not until 1947 that the privilege of marching through the Borough with 'bayonets fixed, Colours flying and drums beating' could be exercised. The 250th Anniversary of the formation of the Regiment was celebrated in 1952 by ceremonies at the Regimental Depot and by the Regular and Territorial Battalions. The privilege of the final march through the Royal Borough fell to the 6th Bn The East Surrey Regiment on 20th June 1959, when it celebrated its centenary year.
When the end came on 14th October 1959 and The East Surrey Regiment amalgamated with The Queen's Royal Regiment, it could be said that the Regiment, during 250 years of loyal service had distinguished itself in virtually every major campaign and many minor ones since 1702.