The Queen's Royal Regiment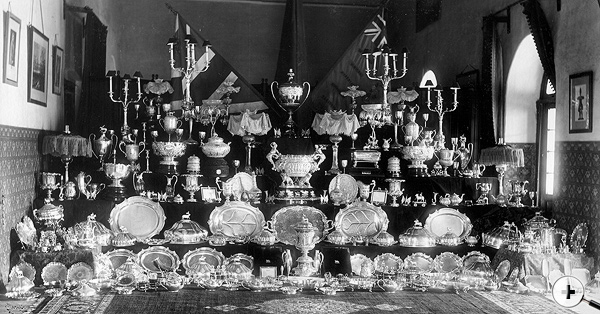 It is not recorded where the picture was taken or the year, but it is believed to be in India, probably before the First World War.
The Colours in the rear of the picture were the 6ft Colours which were laid up in 1947. They became known as the 100 years old Colours and were displayed in Clandon before the fire..
The third Colour in the centre was replaced by 1st Bn The Queen's Regiment in 1977 whilst stationed in Werl, then West Germany. Many of the pieces shown in this photograph are still in service with The Princess of Wales's Royal Regiment.
Centrepiece

It is a solid silver oval Jardiniere with heavily chased two female figure handles, surmounted on a wood base with silver plaques and four statuettes, twenty-seven inches high. The Centrepiece was part of the silver of the 2nd Bn The Queen's Royal Regiment now with the Princess of Wales's Royal Regiment.
The Dalhousie Tureen

This is one of the oldest pieces of silver belonging to the Regiment and was presented by the then Commanding Officer, Lieutenant Colonel George Ramsay, 9th Earl of Dalhousie, in 1801. This tureen is typical of the fine, simple Georgian style. It has the Dalhousie arms and the Paschal Lamb engraved and a full model lamb, 4 claw and ball feet and ram's head ring handles imposed, Possibly at a later date.

This is the same Dalhousie who commanded Wellington's 7th Division in the Peninsular Campaign.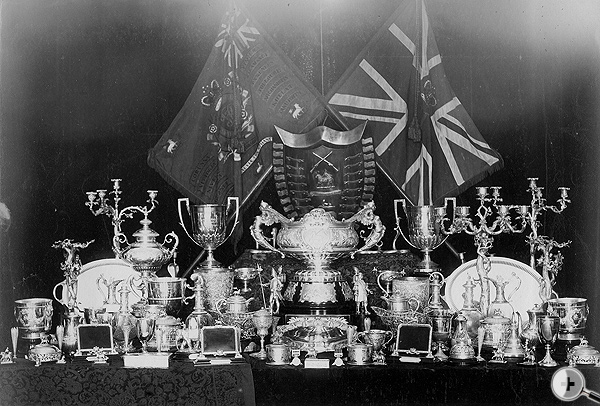 Related


Zoom Images on this page
Click to view enlarged
Hover over image
Click + to enlarge
To move image,
click/hold mouse button

---