Regimental Timeline
The East Surrey Regiment
The Second World War: 1943
1944
The East Surrey Regiment

1st Battalion

Operations in Italy.

11th - 18th May

Battle of Cassino.

May

Surrender of Italy.

30th May

The East Surrey Regiment granted Freedom of Kingston-upon-Thames.

2nd Battalion

Sussex.

September

Orkney Islands.

December

Kent.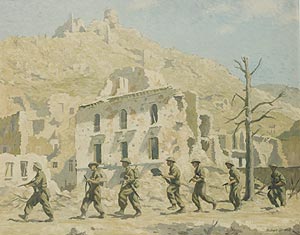 Territorial Army

1st/6th Battalion

11th - 18th May

Battle of Cassino.

Surrender of Italy.

November

Relieved in the line and prepared to move to Palestine.

7th December

Embarks at Taranto and moves to Piraeus, Greece.

18th December

Operations against ELAS in Athens begun.

2nd/6th Battalion

2nd January

Durham.

19th April

Hornsey, North London.

July

Lowestoft, Suffolk. Takes on role of a training battalion.

September

Shorncliffe.

November

Whittlesham, Norfolk.

Home Defence Battalions

10th Battalion

31st December

Hassocks, Sussex.

Home Guard Battalions

3rd (Weybridge), 51st (Malden), 52nd, 53rd (Molesey), 54th, 55th, 56th (Epsom, Ewell and Banstead), 62nd (Norbury), 63rd (Richmond), Battalions affiliated.

64th (Kingston) Battalion raised and affiliated.

Depot

12 ITC becomes 12th Holding Battalion.