Regimental Timeline
The East Surrey Regiment
The Second World War: 1945
1945
The East Surrey Regiment

1st Battalion

Operations in Italy.

2nd May

German surrender.

8th May

Occupation of Austria – battalion moves to Carinthia.

December

Moves to Vienna.

2nd Battalion

Britain. Preparations for the invasion of Japan.

15th August

Japanese surrender.

August

Original 2nd Bn PoWs freed in Singapore.

September

PoWs and Colours return to Britain.

30th November

Colours trooped at West Chiltington, Sussex. New Colours presented.

7th December

Embarks at Liverpool for Egypt (Canal Zone).

16th December

Moves to Haifa, Palestine.

31st December

Arrived Port Said.

Arrived Haifa, Palestine.

Territorial Army

1st/6th Battalion

Operations against ELAS in Greece.

6th January

Athens cleared.

September

Joins 13th Division.

2nd/6th Battalion

Whittlesham, Norfolk, as a training battalion.

Home Defence Battalions

10th Battalion

August

Disbanded.

Home Guard Battalions
3rd (Weybridge), 51st (Malden), 52nd, 53rd (Molesey),
54th, 55th, 56th (Epsom, Ewell and Banstead),
62nd (Norbury), 63rd (Richmond),
64th (Kingston) Battalions stood down and disbanded.
Depot
Joins Home Counties Brigade Group Training Depot.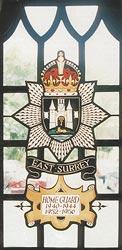 « 1944

Back to list

1946-1950 »