Regimental Timeline
The Princess of Wales's Royal Regiment
(Queen's and Royal Hampshires)
1992
Introduction
Formed on September 9th 1992 as a result of the Governments Options for Change by the amalgamation of The Queen's Regiment and The Royal Hampshire Regiment. HRH Diana, Princess of Wales was appointed the first Colonel-in-Chief in 1992. She relinquished this appointment in 1996. HM Queen Margethe II of Denmark, formerly the Allied Colonel-in-Chief was appointed Colonel-in-Chief in 1997.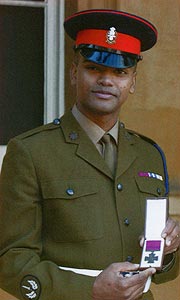 Private JG Beharry VC.


(Click image to enlarge)
The Regiment has two regular battalions the 1st and 2nd and one Territorial Battalion, the 3rd Battalion. Regimental Headquarters remain at Canterbury with Western Headquarters at Winchester. The Territorial Band (The Kohima Band) continues to be based at Canterbury.
All the processes of change and amalgamation were loyally carried through, and the traditions and spirt of the old Regiments of the Line, established during over 300 years of service lives on in The Princess of Wales's Royal Regiment.
Since its formation the Regiment has served on operations in Northern Ireland, Zaire, Rwanda, Bosnia, Afghanistan, Iraq, Falkland Islands, Kosovo and the Congo. Both regular battalions have been reinforced by Territorial soldiers from the 3rd Battalion.
During the 1st Battalions tour in Iraq in 2004, Private JG Beharry displayed repeated acts of extreme gallantry and unquestioned valour, for which he was awarded the Victoria Cross.
Colours
New Colours were presented to the Regiment at seperate Colour Presentation Ceromonies; 1st Battalion at Howe Barracks, Canterbury by Queen Margrethe II of Denmark, the Colonel-in-Chief on the 30th June 1997.
2nd Battalion also at Howe Barracks, Canterbury by the then Colonel-in-Chief the late Diana, Princess of Wales, on 20th May 1995.
3rd Battalion at South of England Showground, Ardingly on 11th September 1999, by the Colonel-in-Chief Queen Margrethe II of Denmark.
During this period the Regiment laid up the Colours of the 1st Bn The Queen's Regiment in Guildford Cathedral on 12 September 1997, the 2nd Battalion The Queen's Regiment on 1st June 1995 in Canterbury Cathedral, 1st Battalion The Royal Hampshire Regiment on 13th September 1997 in Winchester Cathedral, the 3rd Battalion The Queen's Regiment Colours in St Pauls Cathedral on 13th September 1996.
Locations
The 1st Battalion is currently stationed at Barker Barracks, Paderborn Germany in an Armoured Infantry Role.
The 2nd Battalion, currently (2012) stationed at Woolwich, Public Duties with one company in the Falklands, whilst the 3rd Battalion remains with its BHQ at Leros Barracks, Canterbury Kent.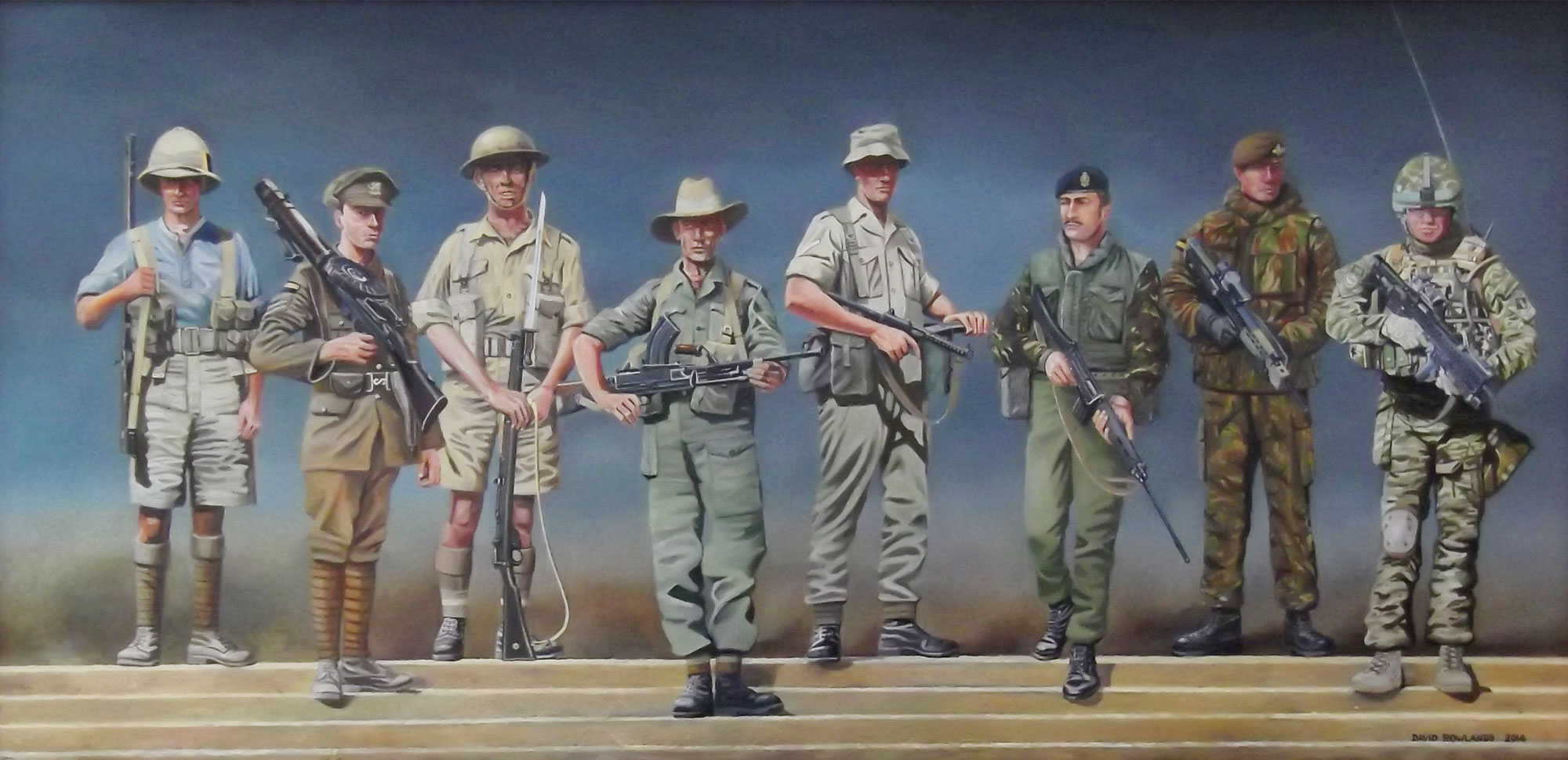 'Fierce Pride'
A Century of The Tigers on Operations
By David Rowlands
Presented by Colonel DK Mogg TD May 2017
(Click image to enlarge)
The Queen's Regiment

Back to list

PWRR Regimental Tree »