Troopships and the Regiment
The Regiment's involvement in two maritime disasters
The Birkenhead Disaster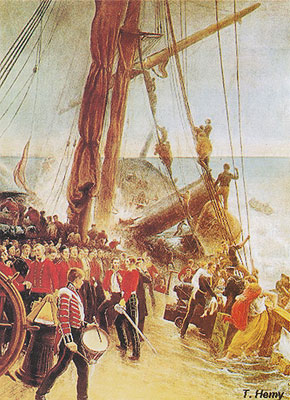 The Birkenhead disaster.


(Click image to enlarge)
The sinking of the Birkenhead is fully recorded in Volume V of the Regimental History and well summarized in Jock Haswell's short history of The Queen's Royal Regiment in the "Famous Regiments" series.
In brief, HMT Birkenhead sailed from Cork on 9th January 1852, with drafts of ten regiments on board. The Queen's detachment consisted of Ensign Boylan and 51 rank and file. After coaling at Simon's Bay on 24th February the Birkenhead sailed at 6pm on a calm starlit night. At 2am the following morning the ship struck a rock near Danger Point some two miles off Hermanus.
Troops were mustered on deck and the senior officer ordered the detachment commanders to ensure complete silence was preserved. Working parties were organized to help in manning the pumps, lowering the boats and getting the horses overboard. The women and children were passed into the cutter, and those troops not engaged, some 350 men (including the Queen's), were ordered aft.
With engines going hard astern, the Birkenhead slid off the rock but almost immediately struck another under the engine room. The force of the impact tore the bottom out of the ship causing her to break in two. From this moment the Birkenhead was lost. The water rushed in and she began to sink rapidly.
Chaos, confusion and panic could have invaded the scene. Instead the troops, most of them young soldiers, quietly carried out the orders of their officers as the ship went down. In his report of the disaster, the senior officer wrote "Everyone did as he was directed, and there was not a murmur nor a cry amongst them until the ship made her final plunge."
Of the 467 officers and men on board, 355 were drowned or killed by sharks. Probably many more would have been lost had it not been for the discipline and restraint of the soldiers. The Queen's lost Ensign Boylan and 35 of his draft. Of the 16 survivors, some were alive in the early years of the last century.
The late C S Avis who enlisted in the Queen's in 1910 and ended his career as Orderly Room Sergeant wrote the following footnote for the archives some years ago.
"In the pre-1914 formation of eight companies to an infantry battalion, the letter 'G' was not allotted to a company of the 1st Battalion The Queen's (RWS) Regiment. As recruits we were told that this letter of the alphabet was not used in honour of the detachment which was lost in the ill-fated disaster of the troopship Birkenhead.