War Memorials
The 1st Bn The Queen's Royal Regiment In Burma
Annex F
Kohima
In the two battles for Jail Hill, Kohima, the 1st Queen's lost 4 officers and 57 Other- Ranks. Major Strand has written, 'On 31st August 1944 there was unveiled on Jail Hill, Kohima, a memorial erected by the Pioneer- Platoon to all ranks of the 1st Queen's killed in action up to that time.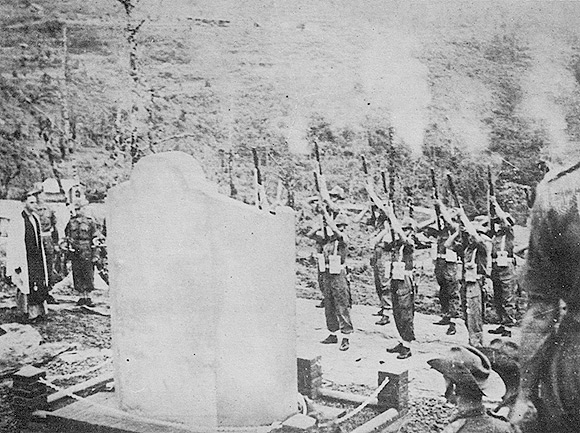 The whole Battalion, with' buglers and firing party, was present at the ceremony, which was performed by Lieut. General Sir Montague Stopford, at that time GOC XXXIII Indian Corps. The GOC 7th Indian Division, Major General F Messervy, was also present, together with his three brigadiers and representatives of 4/1st Gurkha Rifles.
By 1967 this Regimental memorial had fallen into disrepair and it was decided to replace it by another memorial within the Commonwealth War Graves Commission Cemetery at Kohima. Contributions towards the cost of the new memorial came from many members of the former Queen's Royal Regiment and East Surrey Regiments, as well as from HMS EXCELLENT and the 1st Gurkha Regimental Association. Arrangements were made for the memorial to be constructed in Italy of Botticino marble. The panels were shipped out to Burma, but on arrival at Kohima were found to be broken. Replacement panels were ordered, and finally, in April 1972, the Commonwealth War Graves Commission reported that the new memorial panels to The Queen' s Royal Regiment had been erected in Kohima War Cemetery.
Rangoon
In August 1945 the 1st Queen's left Burma for Siam. The Commanding Officer, Lieut Colonel J R Terry, writes, 'Before leaving Rangoon, I asked the Bishop of Rangoon if we could put up a memorial in the Cathedral grounds to all those in 1 Queen's who had lost their lives in Burma since Kohima. This was readily agreed, and I sent an officer, who was an architect, to do this. He built a very good simple Cenotaph-type memorial, and we sent photographs to many relatives, which was much appreciated.'