Malaya
Formation of The British Battalion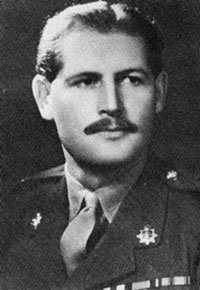 Adjutant C O'N Wallis.
At Ipoh there was a brief rest, and it was here that on 20th December 1941, the British Battalion was formed from the remnants of the 2nd Bn The East Surrey Regiment and the 1st Bn The Royal Leicestershire Regiment. The latter had suffered severe losses in the earlier fighting, particularly at Jitra, and was less than 150 all ranks strong. Here, too, the respective Brigade Headquarters were amalgamated to form the 6/15th Indian Infantry Brigade which now consisted of the British Battahon the 1/14th Punjab and a combined battalion of Jats and Punjabis.
The British Battalion was commanded by Lieutenant Colonel Morrison MC, the redoubtable commander of the 1st Leicesters. The Surreys provided the Adjutant, Major Wallis, the Carrier Officer, Lieutenant Bingham, the Quartermaster, Captain Gingell, Captains Bruckmann and Vickers, commanding C and D Companies respectively, and a number of platoon commanders. The strength of the British Battalion was made up to War Establishment of 760 all ranks, but there was a shortage of light machine guns and mortars.
After a few days rest at lpoh, the 6/15 Brigade was ordered to take up a defensive position at Kampar, about 40 miles to the south. The Bntish Battalion spent the last week of December 1941 in preparing the position by digging, wiring and clearing fields of fire.
In spite of the urgency of the situation, Christmas Day was not overlooked. The Leicesters' Regimental History records, "Captain Gingell, the Quartermaster, worked wonders on Christmas Day, and everyone got a ration of beer as well as turkey and other sorts of livestock. The Battalion Chaplain visited the Battalion and held a short service". It was the calm before the storm.
East Surrey Officers Who Served in The British Battalion
Battalion Headquarters

Adjutant

Captain C O'N Wallis

Quartermaster

Captain W G Gingell

Headquarter Company

Captain E A L Andrews

Captain A C A Cater

Captain WAG Edwards

Captain E A F Howard

Captain A J H Martin

Lieutenant J T Barnard

Lieutenant L P B Bingham

Rifle Company C

Captain PAC K Bruckmann

Lieutenant B F Boothby

Lieutenant R P Cave

Lieutenant R H Cross

Lieutenant M G D Edmonson

Lieutenant G B Falkner

Lieutenant R C Humphries

Lieutenant R J Randolph

Lieutenant H P Sharland

Rifle Company D

Captain W G Vickers

Lieutenant S S Abbott

Lieutenant R H V Bobe

Lieutenant T R Bond

Lieutenant J D Carter

Lieutenant R H Colis

Lieutenant D H Leage

Lieutenant R D O'C Thompson
In addition, the following East Surrey officers were serving in Malaya on the staff or at extra-regimental employment in December 1941.
Appointments are believed to be as shown.

Major R A Chidson

Adjutant, 7 Malaya Reinforcement Camp

Major F J Crafter

HQ Malaya Command

Major FA H Magee

DAAG, HQ Malaya Command

Major D F Orme

OC Rest Camp, Penang Island

Major C E Poole

GS02, HQ Malaya Command

Major M C Russell

DAQMG, HQ ABDAC at Lembang

Capt F M J Halliday

Staff Captain, HQ 2 Malaya Inf Bde

Lieut S C A N Bishop

HQ Penang Fortress

Lieut W M Smith

Adjutant Malaya OCTU
« Previous

Back to List

Next »